KOPW holder talks G1 Climax 32
Having entered G1 Climax 31 as IWGP World Heavyweight Champion, Shingo Takagi is again a title holder for the 2022 tournament, but of a very different variety. Having already redefined expectations surrounding the King of Pro-Wrestling trophy, Shingo seeks to be a double trophy holder come August 18 in the Budokan. 
Watch ALL of G1 Climax 32 LIVE in English on NJPW World!
Sting, the cheers, the travel issues, it was a wild trip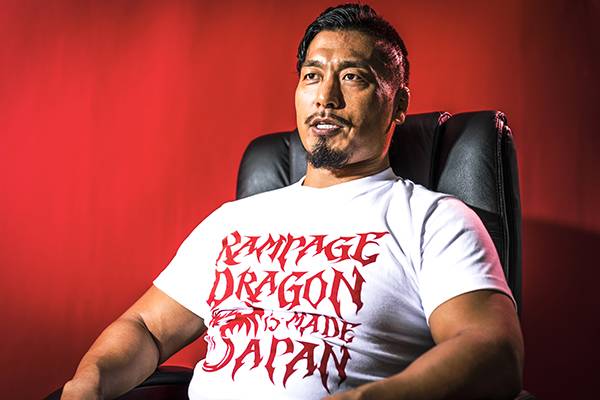 –Before we get into the G1 talk, how was your experience at Forbidden Door?
Shingo: It was my first time in, what two and a half years? Nearly three hearing the fans voices. It really did take me aback a bit. I flashed back to my NJPW debut in Ryogoku in 208.
–It made a big impact on you.
Shingo: I'd planned to just pretty much go out there, business as usual, but with the place so loud, and then the (All Atlantic Championship 4 way) match before us really going down well, I had my doubts for a second.
–It really was an incredible atmosphere.
Shingo: I think I'm just so used to the no cheering thing, it's so ingrained now. What you do doesn't change at all, but when you hear those voices, it does become 'man, I really can't let these guys down' so it kind of sharpens your instincts as a professional. Obviously I want that back for Japan as well, and when it comes, I want the fans to make even more noise than they did before.
–What was it like being in an AEW ring for the first time?
Shingo: Hmm. In December 2018, at those last Korakuen Hall events, I heard from the press that Kenny Omega wanted to wrestle me the next year. Then he left, so I'd always had in mind that he wanted to wrestle me in AEW. So I always had the place in the back of my mind. 
–Kenny had said that?
Shingo: Yeah. So when people were starting to head over there, I thought that maybe that chance might come around. So I've been ready to head to AEW for a long time, and I've been watching them.
–Who from AEW catches your eye?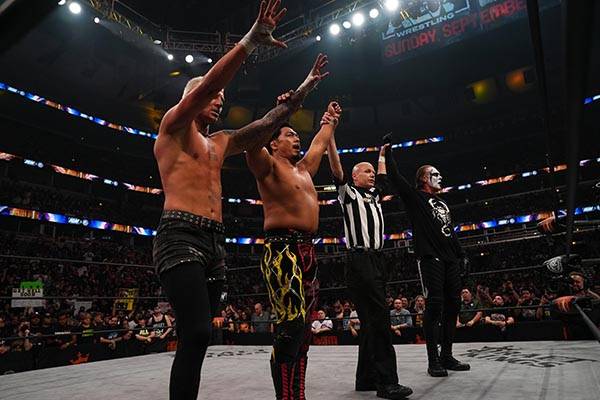 Shingo: Well, I think the guys that I have wrestled before, or had near misses with. So Bryan (Danielson) (Samoa) Joe, Claudio (Castagnoli), PAC. But then Sting… Sting just entirely carried that match we had (laughs). From the entrance on, it was all Sting. That's a legend for you. He was a real model for me going forward, that's the kind of wrestler I need to be. 
–I see.
Shingo: One thing about that event was that Tanahashi and Okada had title matches, Ishii would have had a title match but for injury. I was running hard as IWGP World Champion for most of last year and I think people shouldn't forget that. If I go over there again I should be in the title picture, I should be a main event guy there.
–Was Forbidden Door a bit of extra pre-G1 motivation for you?
Shingo: I thought it would be good motivation, and it turned out to be the best motivation. From the cheers, to Sting to all the travel trouble I had coming back, it was definitely a wild weekend. 
Everyone will be in their best shape every night. We'll find out who the real deals are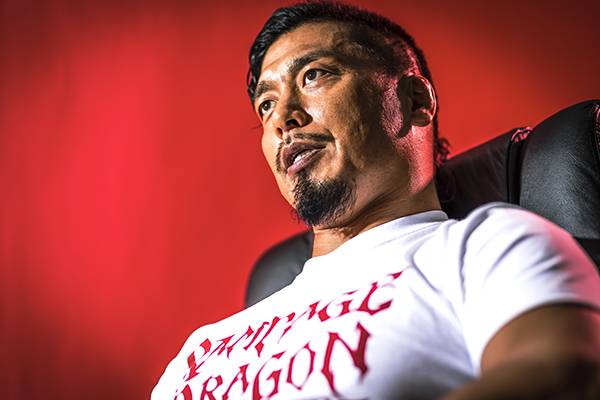 –So let's turn our sights to the G1 line up. This year we have the most entries ever at 28, in four blocks. What do you think about that tournament structure?
Shingo: Just with the sheer numbers, you'll see who the real deals are and who's sneaking by. And I think we'll see a lot of different styles, which is cool.
–It's good for the fans.
Shingo: When I got to do colour commentary during Best of the Super Jr, it was pretty cool to see Alex Zayne or Ace Austin, where I didn't know what they would do until the match started. That's exciting. This is going to be the same, there's a lot of curiosity, especially with that monster A Block. 
–There's a lot of intrigue.
Shingo: Right. Like, four years ago in PWG, I did the battle of Los Angeles. That was the first time I met Jeff Cobb, and he won that year, but JONAH was in that tournament, too.
–What did you think of JONAH?
Shingo: He'd been in Japan for a long time, so he took care of me in the States. We went to the gym together and stuff. I'm looking forward to meeting him again, and it would be good if we got to wrestle. So maybe he'll make the finals.
— Sheer numbers aside, what do you think of the four block structure?
Shingo: It is a bit of a shame that I don't get to be in the same block as someone like JONAH or Lance Archer. I did want to show that you can't beat the power I have.
–On the flip side, this is an easier structure when it comes to conditioning, with only six group matches. 
Shingo: I think every match is going to see every guy in top shape. When you're in singles matches every night, that damage piles up, but now everybody will be as fresh as possible. 
I think Juice is half-assing it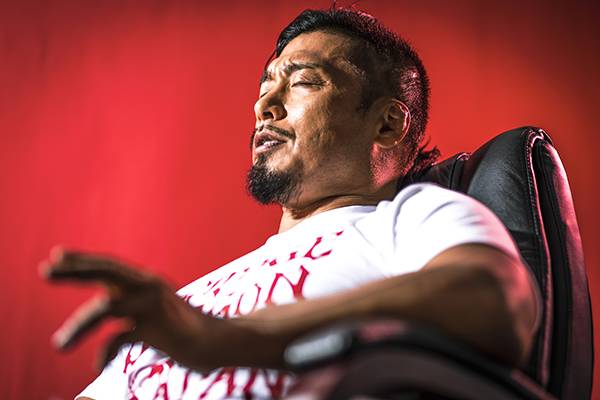 (Interview conducted before July 17)
–So let's go into your group matches, starting with July 17 and Juice Robinson. 
Shingo: There's no doubt that he's tough. But I don't really get why he joined BULLET CLUB, or what he wants to do now he's there. Then he gets sick, doesn't come to Japan, keeps hold of that belt, it really stinks of the hole Will Ospreay deal from last year. I just don't know what he wants. 
–Ok.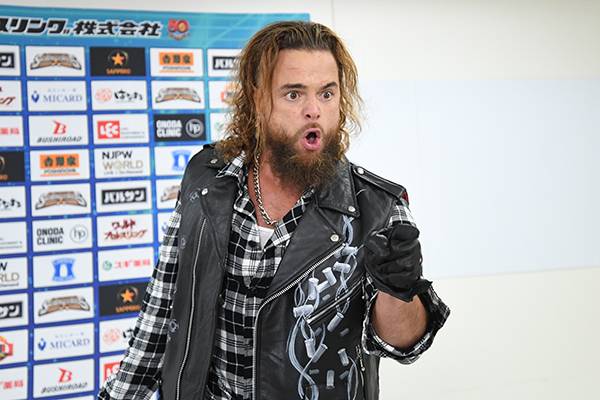 Shingo: As a pro, you can't let the fans down. That's my policy. So to see him kinda half-assing it, really ticks me off. 
–At the same time, you said he was obviously tough. What do you think of him as a wrestler?
Shingo: I wonder whether he'll change his style any now he is in BULLET CLUB. But I think if he tries coming at me that way, I'll have a plan up my sleeve to fight back.
–You're not afraid to get your hands dirty. 
Shingo: I'm not one to bring a chair or a weapon into the ring, but if the other guy does, I'm not at all afraid to use it. 
–You'll throw back anything they throw at you. 
Shingo: I'm the same as I ever was and always be. That's all out, so if anyone comes at me half-assed, then it's time to give them a little wake up. I'm the KOPW trophy holder as well, and I want Juice to be thinking about me, and not whatever is happening with the US title belt. 
–Good point.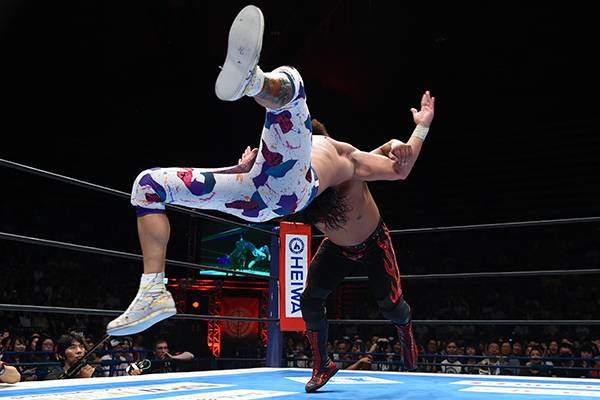 Shingo: That's the thing, I really hope he makes this a personal fight. BULLET CLUB doesn't come into it. Three years ago, in my first G1, he beat me my first match in.
–You want him to come in with the same energy.
Shingo: We've both progressed in the last three years. I think we can put out a better match. So I don't want him to start f***ing around in the ring out there just because he's BULLET CLUB now.  
I want that warrior spirit from YOSHI-HASHI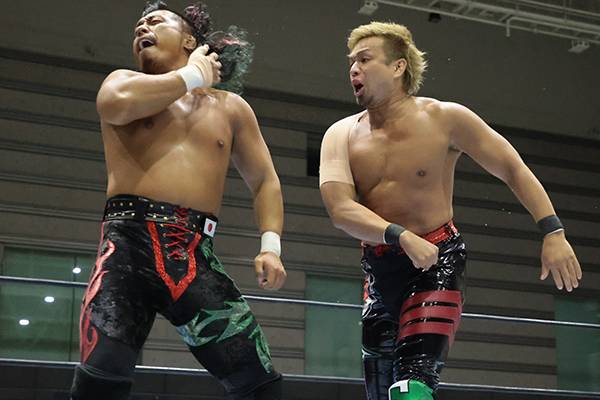 –Your second match is July 23 in Ota against YOSHI-HASHI.
Shingo: We're both products of the Hamaguchi Gym. We're both the same age, and I think we both have the same idea of wanting to leave a big final impression from our 30s.
–What are your thoughts on YOSHI-HASHI as a wrestler?
Shingo: I think he and Goto definitely live up to that Bishamon name. YOSHI-HASHI is really good at controlling that warrior spirit of Goto. He's the control tower of the team. 
–How do you feel about him personally. 
Shingo: Well, he's been effective with Goto, but the question mark is over just how far he can really go as a singles guy. We have similar physiques perhaps, similar age, but I think in terms of straight fire I should eat him up. 
–You aren't worried about him.
Shingo: The one thing from him is his Karma is very similar to my Made In Japan. I've never taken a Made In Japan, so I'm half worried and half curious. That7s interesting. 
–I see.
Shingo: With a name like Bishamon, I know he knows his history. I'm sure he respects the old feudal leaders like Kenshin Uesugi. I have more respect for Shingen Takeda. So in Ota, this will be like the battle of Kawanakajima. Maybe that's a little grandiose… 
This is a critical moment for Finlay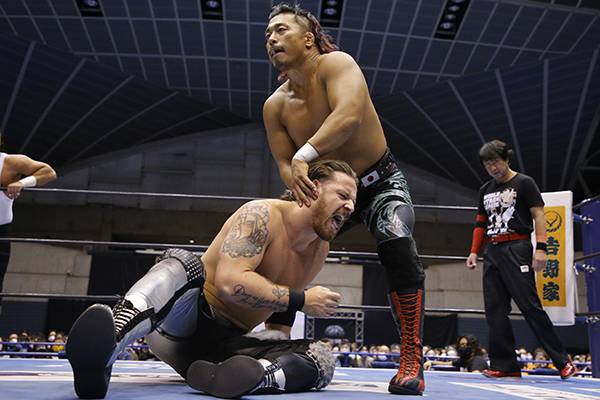 –Third for you is July 30 and David Finlay in Aichi.
Shingo: Back in 2020, in the World Tag League, Finlay was able to pin me. I took Juice's Pulp Friction and then ate that Acid Drop of his. So I definitely want to get my win back. 
–He's finally entering his first G1, but at 29, he wants to start a big new chapter of his career. 
Shingo: He looks different, looks like he's trying hard, and this is a critical phase for him. When I was just about to turn 30, I remember thinking what he's thinking; am I able to progress and get to the top, or do I need to walk away'. I get all of that, but I'm not about to let him get that growth at my experience; I'd just as gladly cut him off at the stump.
I might have to try and finish Ospreay in ten minutes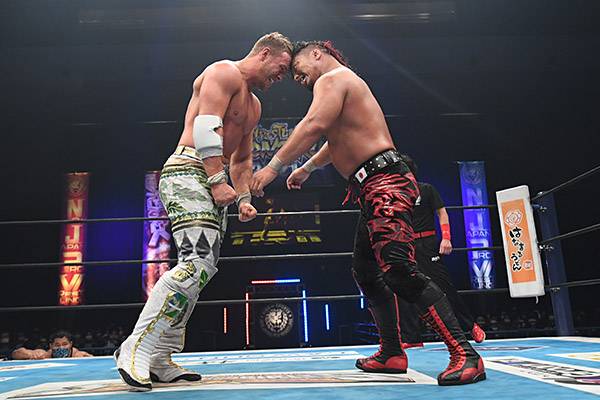 –Match number four on August 6 in Osaka is with Will Ospreay.
Shingo: I should have won January 4 in the Tokyo Dome and faced Ospreay January 5 in the main event, but I didn't… but a little twist of fate and here we are. 
–Have you reassessed your thoughts on Ospreay of late?
Shingo: I remember watching the matches at Forbidden Door on a monitor backstage. Ospreay was the most over of everyone. Okada was in the semi, Tanahashi in the main. But the biggest reactions were Ospreay's and that proved how good he is. 
–What do you think his biggest strengths are?
Shingo: Somewhere Zack called me a samurai. But I think Ospreay has a samurai spirit. He lives fast, always fights with his back against the wall, always has a killer instinct.
–So you appreciate his attitude to matches.
Shingo: We have different styles, came through different backgrounds. But we both understand the importance of right now. This match with him isn't a title match, it's one part of the G1, but I'm treating it like this is my January 5.
–It's that important to you. 
Shingo: This would be our first singles match in a year and a half. I beat him two years ago in Kobe, and sever since he's been trying to pass off that it didn't count. So I'll make this count. 
–No room for excuses.
Shingo: Right. I might need something extra. I might have to beat him inside ten minutes, or think of something different. That makes this all the more fun. 
I want to fight Yujiro like a man for a change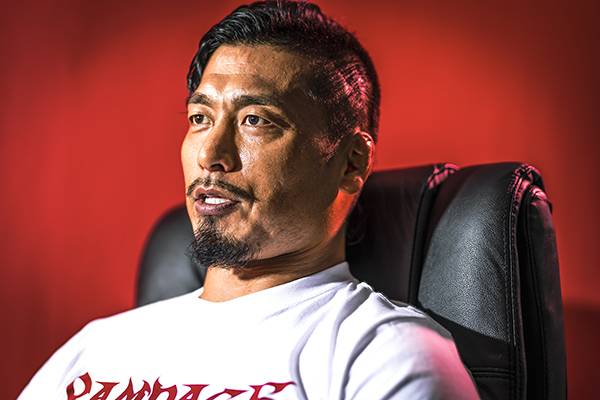 –Up next, on August 13 in Machida is Yujiro Takahashi.
Shingo: Last year I had Yujiro at the end in Yokohama, and he pulled me out the ring, made it so the match ended in a double countout, and knocked me out the running. I was hoping I wouldn't have him near the end, and then when I did, it really felt our weird little drama was set to continue. 
–Do you find him a hard opponent to deal with?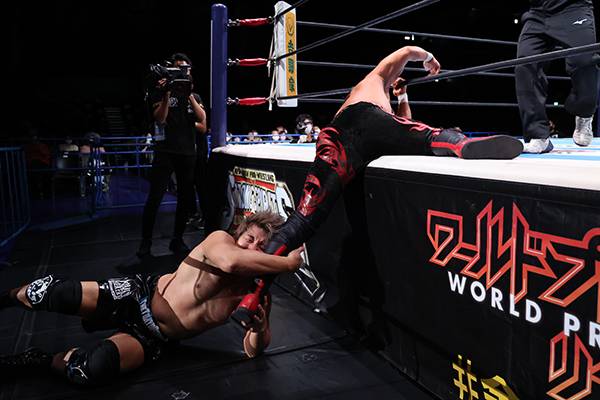 Shingo: Like, can you count what he does as wrestling? He wasn't even in that match trying to win it. I really don't know what he's thinking. 
–Here you do have to think about your positioning points wise. 
Shingo: I don't want it to become a complex with him. So yeah, the plan is to completely wipe him out. 
–As much as his tactics might offend you, he does have a strong wrestling backbone.
Shingo: Yeah, I just don't know what he's setting out to achieve. He's just filling out the numbers in HOUSE OF TORTURE, don't you think? He blends in, but sometimes those are the guys that are most dangerous. People are aware of EVIL, of SHO, of Togo, but look past him. Pieter is sure to be in the way as well. 
–You think she's a factor?
Shingo: I'm only flesh and blood, a beautiful face like that steps in and my attention gets diverted, heh. I'd like for Pieter to stay in the back and let's me and Yujiro fight it out like men for a change. 
Phantasmo can do anything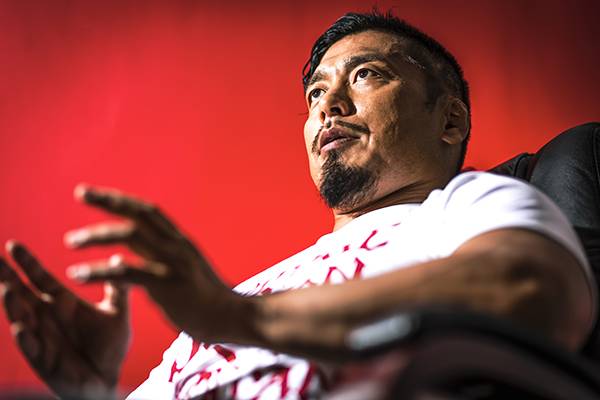 –Finally on August 16, El Phantasmo.
Shingo: Hmm. Phantasmo didn't even make the finals of BOSJ, so I wonder whether he's just filling up the numbers here. 
–But he's large for a junior, and his athleticism is almost unmatched.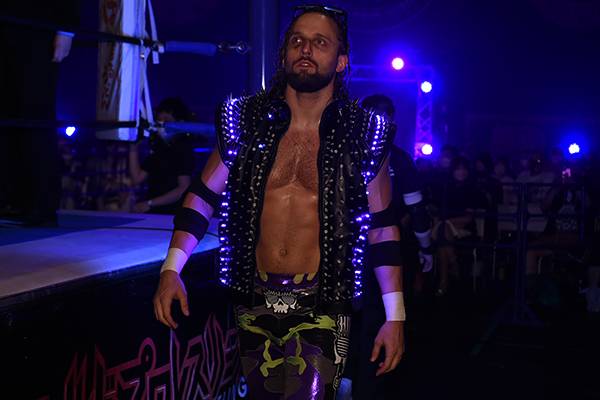 Shingo: The sky's the limit for him, potential wise. He can do everything, but then I think that makes him just want to do everything. He's less about winning a fight than he is all about saying 'look what I can do' and being satisfied with that. 
–There's no doubting his skill.
Shingo: I've watched him a lot. He can go, no doubt, he just needs to want to win, and he needs to want to fight. I don't know, I guess, his style is his style, but as someone who transitioned from junior heavyweights to the G1 myself I plan on teaching him that's not enough in the G1. 
I'll be wilder than anyone in this tournament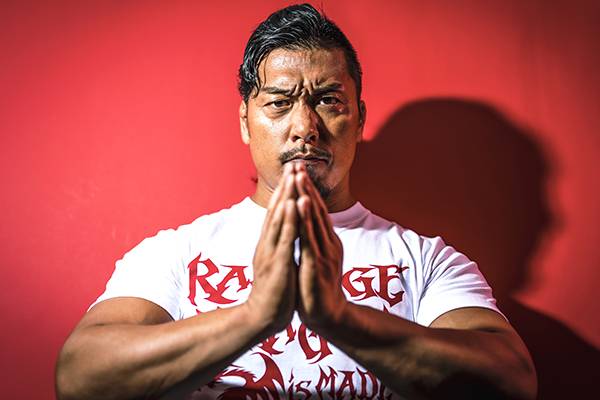 –So who do you think will advance from C Block to face you in the semifinals?
Shingo: Hmm, I think the one who's made the most progress over the last little while, and that's Zack. I lost to him in the New Japan Cup semifinal, so it'd definitely feel right to beat him out of the G1 semifinals. That or a match I should have had in last year's G1, with Naito.
 –He was out due to injury of course. 
Shingo: Last time we met in the G1 we had both said, 'let's do it again before we both turn 40. Well now Naito has just turned 40, but I can still wrestle him while I'm 39. 
–You both seem to enjoy wrestling one another. 
Shingo: I mean, we were sparring together as teens. So even though we're on the same team, it's always cool to compete. 
–So you think it'll be Zack or Naito.
Shingo: But then you have EVIL, and he'll always have that HOUSE OF TORTURE backup. To be quite honest, I was pretty relieved when I saw I wasn't in the same block as him. 
–How about A or B Block? Who makes the finals?
Shingo: I think SANADA has to do it, but I think Jay (White) will do it. When he took that belt from Okada he said something that really got to me, saying Okada was content with having that belt in Japan, but he would be a true world champion.
–Quite a harsh turn of phrase.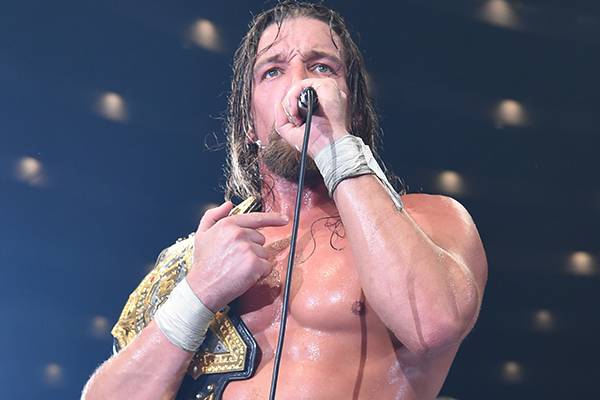 Shingo: For a guy who didn't come to Japan for the best part of a year to say that he was the one to broaden the scope of New Japan… Man, we were working our asses off here, and for him to say that really pissed me off. People seem to forget who was the champion going into January 4 this year. Jay especially.
–So you'd like for SANADA to make it to the final, but you want to face Jay.
Shingo: I think SANADA needs to step up, and I'd be excited to wrestle him for the first time in a singles, but I'd happily beat some sense into Jay for what he said. 
–Comments aside, what do you think of him as IWGP World Champion?
Shingo: He's awesome. I saw that most recently at the AEW show, and I felt it first hand. He wore me out in the G1 three years ago.
–Wore you out?
–He's so good at messing with your head. It isn't as much the raw physical damage, the pain with him, as the energy he can completely take out of you.
–That's no good for the fired up Shingo.
Shingo: I'm always straight ahead, straight fire, and he's the opposite of that, wearing you down and then quick as a flash with that Bladerunner. I think he knows so well that if he hits that move the match is over, and that he can hit it at any time. That means he can really take his time in the ring, and wear you down physically and mentally. 
–Your final message for the final G1 of your 30s?
Shingo: Well, this is my 'prime of life' G1. I'll be the most fired up of anyone in this field of 28 this year. It'll be the most violent summer you've ever seen!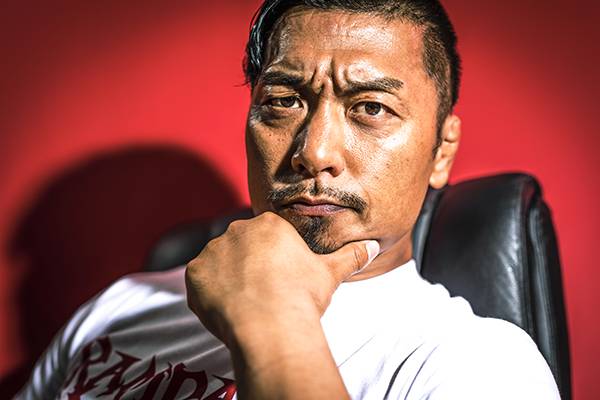 a