Six man action to feature in the new Ariake Arena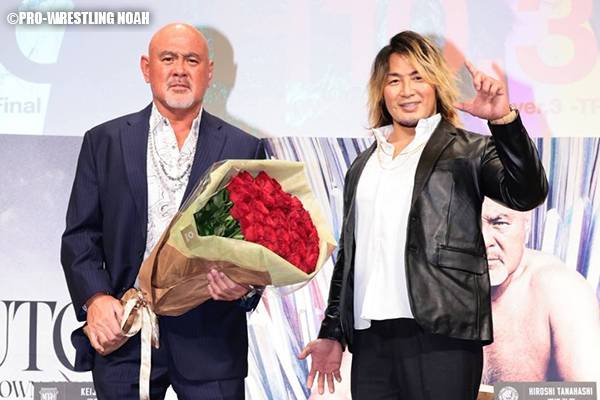 On September 26, a special press conference from Pro-Wrestling NOAH revealed Keiji Muto's latest opponent in his road to retirement in early 2023. Hiroshi Tanahashi would answer the call at the conference. The Ace, a former protege and assistant of Muto's, entered holding 38 roses, one representing each year of Muto's legendary career. 
Ever the agitator, Muto suggested that a 'true Muto-ist' would have courted controversy by throwing the roses at his feet, referencing a controversial moment at Floyd Mayweather's recent RIZIN fight, before the conference began in earnest.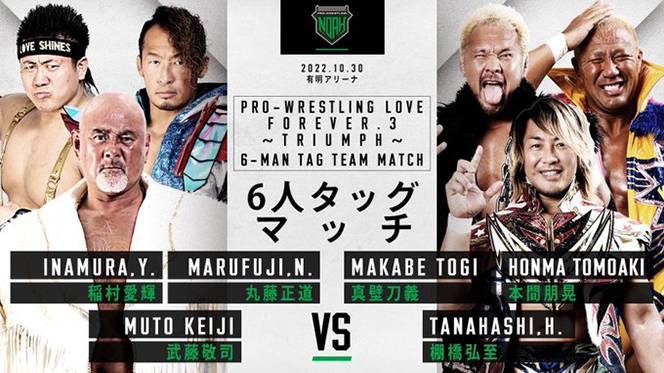 A six man tag was announced for October 30, where Muto will team with Naomichi Marufuji and Yoshiki Inamura to face Tanahashi, Togi Makabe and Tomoaki Honma, two more figures for whom Muto played an instrumental part in their early careers in NJPW and AJPW respectively.
Hiroshi Tanahashi's comments: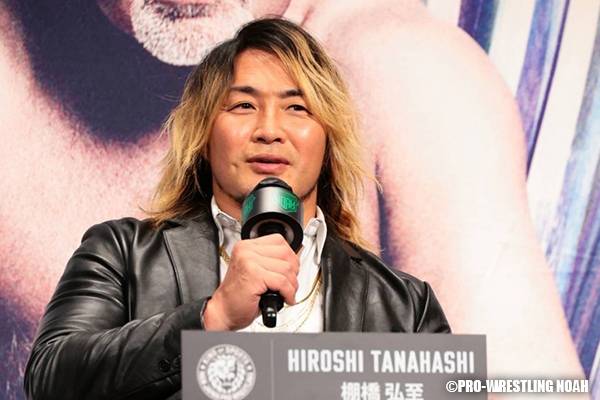 I really thought that Muto would be wrestling as long as there was breath in his body, so his retirement announcement did come as a shock. He was my favourite wrestler as a fan growing up, and it was a real honour to be his assistant when I came into NJPW.
I have a lot of memories of him taking me to the gym and us lifting together. He would tell me is record on the bench was 190kg. For the longest time that became my goal, and it toopk me until around 2014, 2015 that I finally lifted 190 kg one time. Now, I don't know if I can say I surpassed Muto in terms of look, physical ability, charisma… But I did beat him at that damned bench press! I beat him where it mattered least, perhaps (laughs).
This is just one match on Muto's retirement road, and I'll be part of a three man team from New Japan, but the longer I can be in the ring with Muto, the more I'll savor every second.
Muto: Hey, Tanahashi, don't forget I've got long arms. 190kg for me is a bigger feat than it is for you, you've got less distance there.
Tanahashi: My arms are shorter, but you're heavier. So I think we're even.
Muto: Huh, if you say so (laughs).
Keiji Muto's comments: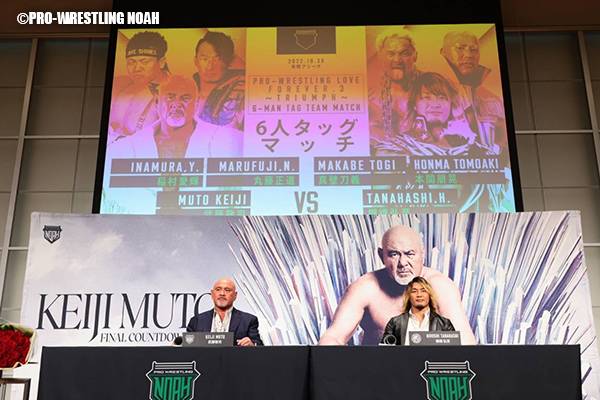 I started my career in New Japan Pro-Wrestling, and I really do feel that I want to be back in an NJPW ring one more time before I retire. But I know how tough the competition in NJPW is right now. So maybe with this match, Tanahashi can come over and maybe give me a little bit of a tryout in that NOAH ring. I definitely want one more New Japan match before all this is done.  
Tanahashi: Your history with New Japan is vital, and with All Japan and NOAH as well. You've done everything all over the world. There really isn't anyone who's done quite what you have. I'll be fighting you with everything I have, and I'll do whatever I can to make sure you stand in a NJPW ring one more time. 
Press questions
–What do those 38 roses signify?
Tanahashi: Love, it's all love. I love Muto, Muto's all about Pro-Wrestling Love, I tell the fans I love them every night. So that's why I brought the roses- 38, one for each year of his career. 
–This will be NOAH's first event with cheering fans back, how do you feel about that?
Muto: I think the boss here Takeda said 'we want you all to chant 'Muto', but I want everything to be organic. Believe me, when I get in the ring, those chants will come natural.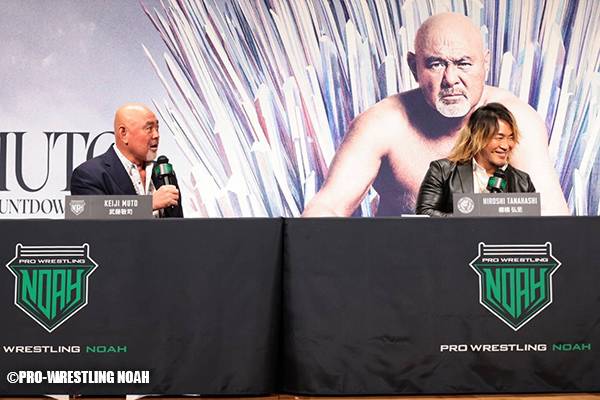 –Your thoughts on the announced match?
Tanahashi: I'll be teaming with Tomoaki Honma and Togi Makabe. Muto was very familiar with Makabe when Makabe got his start in NJPW, and Honma has connections to Muto from his time in All Japan. So I think there's a lot of these threads that have brought us all together for this trio. 
Muto: I trust both these guys in there with me, Marufuji and Inamura. and Honma? Honma was actually my next assistant after Tanahashi here. I never did understand a word that guy was saying- can you communicate OK?
Tanahashi: Well, it's like learning a new language. I'm immersed in it, travelling with him on the road, so I'm at 60, 70% proficiency with Honma-ese. 
Muto: Well I'll take advantage of that last 30,40 percent.
–Is there anything that you really want to take home from this experience?
Tanahashi: Well, I think with the careers we've both had, it gets harder to show or take something completely new. But I suspect that Muto has a few tricks he is still yet to show, even now. I'd like to bring that out of him, and to really bring a nuance and emotion out of this match that'll be special for everyone.
 Muto: Brother, all of my secrets have been exposed by now after 37 years!
–We've heard a lot of classic themes from you on your retirement road, and this time you'll be entering to "Triumph". Your thoughts on that song?
Tanahashi: Oh, he'll come out to Triumph? I loved Hold Out as a fan, and I remember going to the famous 1995 October 9 Tokyo Dome card when I was a freshman in college. I was hyped to hear Hold Out, and then he came out to Triumph, so it maybe isn't my top pick (laughs).
–This is the first time that you'll be in a NOAH ring since Kenta Kobashi's retirement in May 2013.
Tanahashi: Hm, last time was a very different set of circumstances. This match won't be about promotional competition, but it'll have a different nuance to it, and we'll be tearing it up in a different way. 
–Your thoughts on NOAH of late?
Tanahashi: Well, I think there's a strong sense that the company is coming together around Kaito Kiyomiya as a focal point. That's great for them, and it says a lot about Muto's influence that will continue to endure, I feel.