IWGP Junior Tag Team Champions talk 
Despite a shock second loss to DOUKI and Yoshinobu Kanemaru this past weekend, Catch 2/2 are very much in the mix to win the Super Junior Tag League as IWGP Junior Heavyweight Tag team Champions, a feat that would let them call their own shots headed to Wrestle Kingdom 17. As the league continues, we sat down with TJP and Francesco Akira for their first long form double interview.
Watch Super Junior Tag League live or in English on demand on NJPW World!
  I'm happy to be here, of course, I'm grateful, but now I'm here, I have to make sure that I stay here.
—So first of all, congratulations on the recent success.
TJP & Akira: Thank you.
—Did you foresee the two of you being this successful together when you first started tagging?
TJP: I think that the wrestling culture, especially in Japan, people level up in very specific ways.
—Meaning?
TJP: Well, there's a process. Us coming together, you could call that stage one. Breaking through and winning the tag titles puts us in stage two, I feel.
—I see.
TJP: Now, at the same time, and maybe it's a coincidence, maybe not, we're seeing this generational shift, especially with the juniors. That means that in this tag league we're seeing a lot of new teams.
—Teams still at 'stage one' then.
TJP: Right, so I would expect us to get off to a hot start.
Akira: When we started I wasn't thinking of all this, since it was the first time for everything for me. But we clicked so soon, and I think that's why we're in this position of walking into Wrestle Kingdom as champions.
—When you made your debut in Best of the Super Juniors, it seemed like you were perhaps a little too happy to be here if that makes sense, and it showed in your results perhaps.
Akira: I think that's fair.
—But as soon as you started teaming together, out came the aggression in you, the trash talking in Italian and all. Was that TJ's influence on you, or something within?
Akira: TJ, and the Empire, and within, all three. But most important is like, I'm happy to be here, of course, I'm grateful, but now I'm here, I have to make sure that I stay here. I have to present why I deserve to be here and why I belong.
—Winning the titles is one thing, but keeping them is a different challenge. A lot of people had high expectations of Titan and BUSHI at Battle Autumn in Osaka November 5; what was your key to victory over them?
TJP: I think the tagline 'king of sports' is the point there. If you look at most other sports leagues, things come down to timing. Teams go on runs; when you're hot you're hot, and that comes down to the right timing because talent alone doesn't win championships. I think that's true in NJPW more than any other company- if you have momentum, you have success.
—"Winning is contagious"
TJP: Right. And it comes to experience for us, and time and reps. I've been around long enough to recognise momentum and I knew they were killing us on the tour. I didn't want to admit it at the time (laughs) but it's true. Knowing that momentum was important, I knew that we had to stop them while we could.
—Titan and BUSHI are both very experienced individuals, but do you think you had the edge as a duo?
Akira: Yeah, and LIJ is a very particular thing, there's a very particular style that Titan had to adapt to. I think they clicked together soon on the tour, but not enough to beat us in Osaka.
 I've started counting to ten before telling him the idea.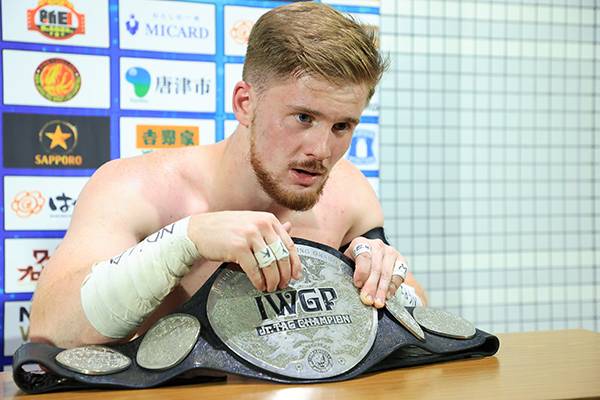 —We seem to see something new from you two all the time, and we've heard that Akira is more the ideas guy, and TJ has to reign things in a little more…
TJP: (laughs) yeah.
—How has that progressed? Francesco, how much are you throwing those ideas now, and how much does TJ have to say no?
Akira: I'm still throwing ideas, but I've started counting to ten before telling him the idea.
TJP: (laughs)
Akira: I'm thinking 'how about this, how about this', and then 'maybe (counts 1,2,3,4,5) maybe yeah…' (laughs) so it's a learning process but I think that's when the best ideas come out.
—Was there ever an instant 'no, we're not doing that' from you?
TJP: This maybe sounds bad, to say it's one step back, two steps forward, but that's the way the process goes. I was there, I was his age and asking guys like Scott Norton about ideas. And you can imagine how that might go (laughs). Imagine asking him a dumb question. So I think, because I started so young, I still have my youth now, somewhat, but I've got the experience that I've had as well.
—So you react differently to other veterans.
TJP: There are a lot of 'no's, sure. But it's more like 'how about doing it like this' and suggesting it a different way.
—Right.
TJP: What's great about Akira is that he is a dreamer, and I'm a bit more of a ring general. I was good at that kind of thing at a young age. I was never great at any own thing, but I could put a match together. That's why we're a great team, because he can think of concepts I never would, and I can make them work.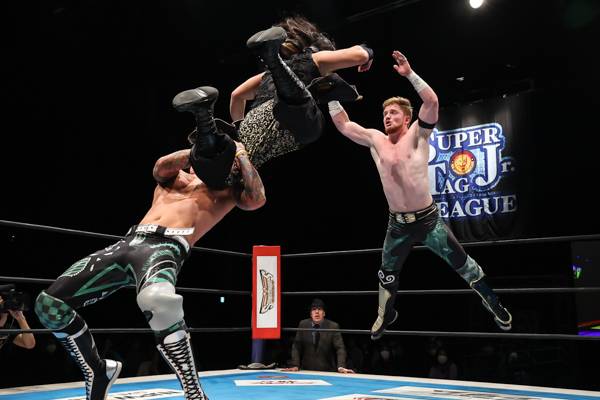 —Veterans in the business will talk about 'saving the boys from themselves' (laughs)
TJP: Right. (Laughs) I've had to save myself from myself, and now I'm saving Akira from himself, but that's a good thing.
—You're the big brother figure.
TJP: I had to big brother him to Ospreay recently.
—Oh?
TJP: Akira's got this sweet leather jacket. It was like the other boys were finally putting him over for having a cool jacket, and Will goes 'no, he's not allowed to be cool' (laughs). So I had to pull rank on Will, like 'let him have one win'.
I'll send the video to TAJIRI and tell him to look at his students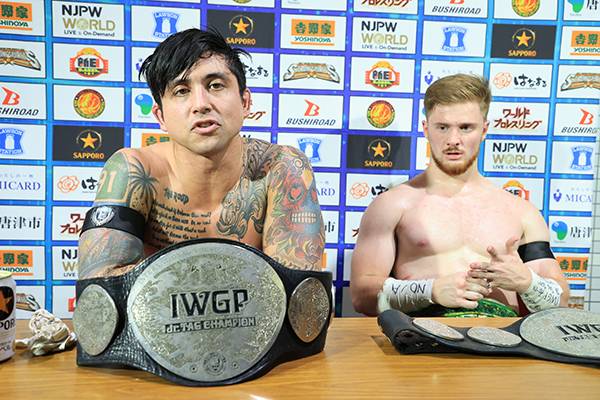 —Can you talk about your relationship with Will a little, now you've been in United Empire just over a year?
TJP: I said at the start that things have a process, and I tend to have a process about planning my future. I felt at the time, it was time for a change. I'd spent a lot of time with the guys in the LA Dojo and it felt like they were going their own way for better or worse. They weren't going to be teachable by me anymore, and Will and I had been friends for years, even before I was in WWE and he went to New Japan.
—Oh, really?
TJP: I'd given him some advice right when he went into NJPW, and I said at the time that we should catch up down the road, whether he found himself in my locker room or vice versa. It's kinda like a Hunter (HHH) and Shawn (Michaels) thing where we're such good friends that we became a good team, and it's great to see how far he's come.
—Akira, you've had your first chances to go home since being part of NJPW. Now you're going home as the first Italian champion in New Japan, has the perception of you been different back home?
Akira: I've wrestled a few times in Italy since we won these titles, and it was a really good reaction. People weren't expecting an Italian to win, or someone my size, so the reaction from fans, friends and family has been so big.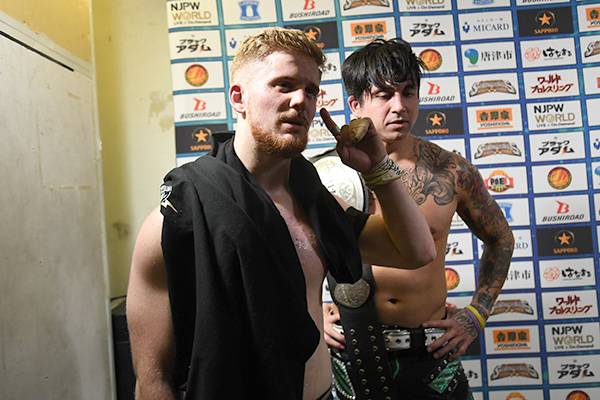 —Looking at matches we have down the line here in the tag league, Catch 2/2 vs Kevin Knight and KUSHIDA is interesting because of your shared connection to TAJIRI.
Akira: TAJIRI told me a lot of stories about KUSHIDA. We're both his students, he discovered the two of us. TAJIRI brought KUSHIDA to New Japan and years later he discovered me in Italy. So I'm definitely going to send the video of this match to TAJIRI and tell him to look at his students (laughs).
—TJ, do you see any of TAJIRI in Akira?
TJP: Yeah, it's strange because TAJIRI was a mentor to Akira, and he was an elder statesman to me as well. I'd see him in a lot of different locker rooms, in WWE as well, and I came to know him over the years. So it was fun to hear from him that Akira was his student. I see a lot of TAJIRI in him, but what's funny is when he comes to me to teach him how to do TAJIRI's moves (laughs). He wants to do an homage but isn't sure how.
—What are your thoughts on KUSHIDA?
TJP: I was here when he was trying to become a full time member of New Japan as a Tajiri guy. I've known KUSHIDA for a long time, and he's been a benchmark of junior wrestling for so long. So I'm excited for that match, and to squash another LA Dojo boy, heh.
—Are there any other matches that you think are especially important later in the league?
TJP: LIJ again, definitely. That momentum of their isn't dead and we have to make a statement there. Then the other one is probably the BULLET CLUB team. Ace Austin made such an impact- ahh—
—IMPACT Wrestling thanks you for the mention (laughs)
TJP: Pun half intended. But he made his mark in BOSJ, and I had hoped Chris Bey would be a part of that tournament as well. I've known Chris a long time, and I know the two of them will do great, so we have to do even better.
Gideon's mind can affect the game in ways he doesn't get enough credit for.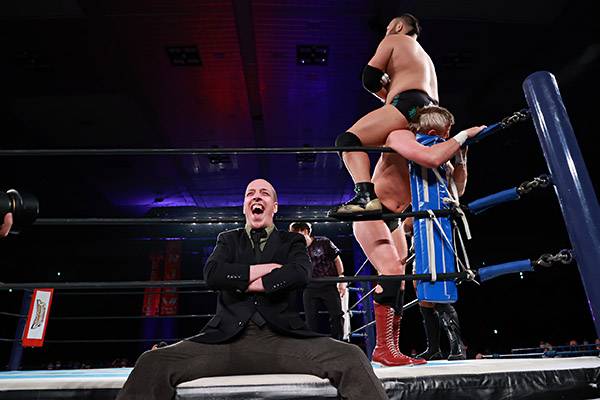 —I want to talk about Gideon Grey…
Akira&TJP: (laughter)
—Well, he's quite the enigmatic figure. In England fans hate him, but in Japan he's very popular.
Akira: Yeah.
—Nobody is quite sure why he's wrestling, but he's a very effective manager. What do you think his influence is on United Empire?
Akira: I remember when I wrestled for RevPro for the first time, Gideon was the most hated guy on the show. I never thought in a million years we would be in the same locker room in Japan. So it's… he's a weird guy, but he fits so perfectly in United Empire. Everyone in their way is cool. And then you have Gideon…
TJP: (laughter)
Akira: And he's not cool, but he is in his own way, and he makes all of us cooler. That's his role, he's great at making all of us stand out.
—Great-O-Khan had said that 'unfortunately, Gideon is not a strong individual'. But he has a good mind for wrestling.
TJP: He has got a great mind. He might not be very imposing physically, sometimes to our detriment, but he's a great thinker.
Like you have your archetypes, you know? Will is so physically impressive. Some guys are so smart, some hardcore guys, some good talkers. In my mind, a hammerlock is just as effective as a microphone, as a powerbomb, as a steel chair. They're all different tools but equally powerful in the right hands. Gideon's mind can affect the game in ways he doesn't get enough credit for.
If a certain someone gets to challenge Will, why can't we face the Young Bucks?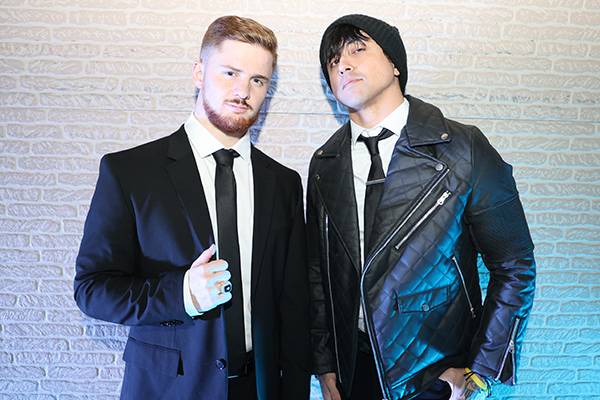 —This is the first time we've had Super Junior Tag League at the end of the year, but there's a good chance the winners would face you at Wrestle Kingdom, or that if you win you can call your own shot. Akira, Tokyo Dome is the biggest stage you will have been on.
Akira: Mm-hmm.
—TJ, you've been on a lot of big stages. Is there any advice you would have for him in that environment?
TJP: I remember, I wrestled in the Tokyo Dome for the first time at 18 years old, and what I was told then, and experienced then is that sound travels differently. You might slam someone and then. Hear the crowd react a second later.
—Right.
TJP: So if you're someone who sets the tempo of a match based on a crowd's reaction, and all sportspeople do that to an extent, when an emotional wrestler like Akira is there in the ring, there's a scientific reason why the crowd reacts differently to how he might expect. You have to work a little slower, almost.
—Let's assume you win Super Junior Tag League and you can call any team anywhere, Akira, who would you pick?
TJP: I think I know (makes Young Bucks muscle pose)
Akira: (laughs)For sure, if I could call any shot then it would be the Young Bucks. They made history with this belt, and had the titles when I started watching as a fan.
TJP: And if a 'certain someone' gets to challenge Ospreay, then why not, right?
Akira: But from New Japan now, I.. don't like the BULLET CLUB team but I like them as a team. It would be cool to beat IMPACT, and beat Ace Austin again.
—As we round up here, it feels like there's a lot of buzz around Wrestle Kingdom, and we're just coming off Historic X-Over as well…
TJP: In such a beautiful arena as well, that was so cool.
—What's on the agenda for 2023 for yourselves and NJPW in general, do you feel?
TJP: I think everyone needed a return to normalcy this year. Not just NJPW but everywhere needed to reset and start focusing on moving the needle again. I think there's been a need to make a change, generationally. Change the factions up, make some trades and moves. The main event scene has needed new stars and that's starting to happen.
—Especially with Shota Umino and Ren Narita back.
TJP: And on the junior scene, it's subtly totally changed. Guys that had been in the middle or near the bottom have now moved themselves up into top spots, and the tag division, you can see in this league, it's completely different this year. For us, and this goes to your last question too, I'm all about efficiency, and I would call the Motor City Machineguns. They're the STRONG Openweight Tag Team Champions now, and to beat a team that defined tag wrestling for us, and win their belts while we're at it works for me.