Pres. Ohbari delivers formal requests at caucus
December 6 saw President Takami Ohbari, Chairman Naoki Sugabayashi and Yuji Nagata lend their voices, insight and present requests to the Japanese government, at the first convening of the "Nonpartisan Diet Caucus for the Promotion of Combat Sports" since November 19 2020. 
Sugabayashi, Nagata and Ohbari were joined in representing professional wrestling by Cyber Fight Group President Sanshiro Takagi and operating officer Akira Takahashi, Tokyo Joshi Pro-Wrestling representative director Tetsuya Koda and wrestlers Daisuke Kanehira and Hiroki Sakai from the Pro-Wrestling HEAT-UP promotion. 
From the MMA world were CEO of RIZIN Nobuyuki Sakakibara, as well as RIZIN's public relations chief Keichi Sasahara, Vice President and acting leader of the Japanese Shooto Association Kazuhiro Sakamoto, ONE Championship producer Shoji Ikemoto, Shigero Saeki representing DEEP, Seiji Ono of RISE Creations, and Tsuneo Yoshioka, PR representative of the All Japan Full Contact Karate Commission. Leading discussion in the caucus was member of the House of Councillors and former MMA fighter Genki Sudo.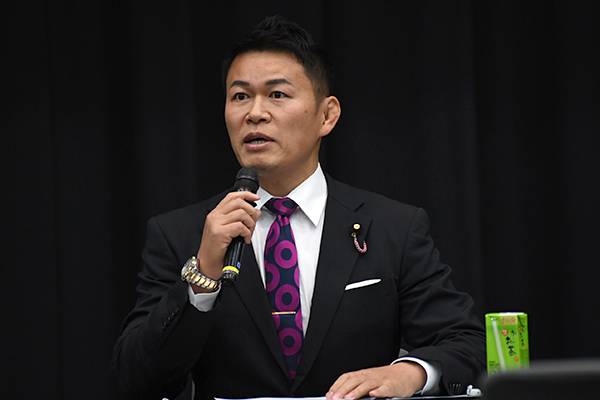 Proceedings started with an address from new caucus Chairman Koichi Hagiuda. The Liberal Democratic party member was named the new Chairman after former Chair Hiroshi Hase was elected to prefectural governor of Ishikawa and formally resigned his post to focus on his gubernatorial duties.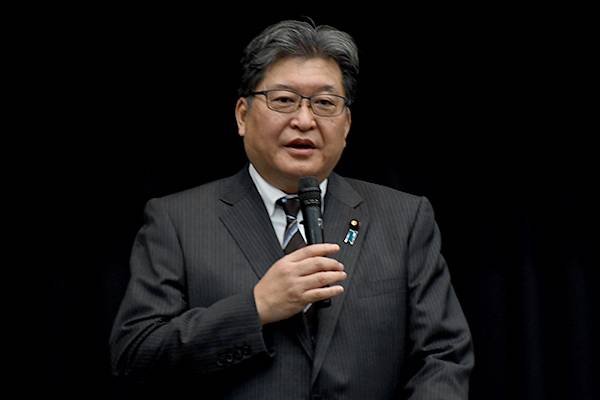 It then fell to NJPW President Takami Ohbari to take the mic and speak on behalf of the professional wrestling space. After Cyber Fight and Tokyo Joshi Pro-Wrestling presented their requests, Ohbari presented one question to the caucus and a pair of formal requests. 
Question: On the definition of cheering.
Request 1: To allow for full capacity vocal crowds at professional wrestling events.
Request 2: To allow for easing on restrictions from local governments and venues.
Ohbari first presented the his query on the definition of 'cheering'.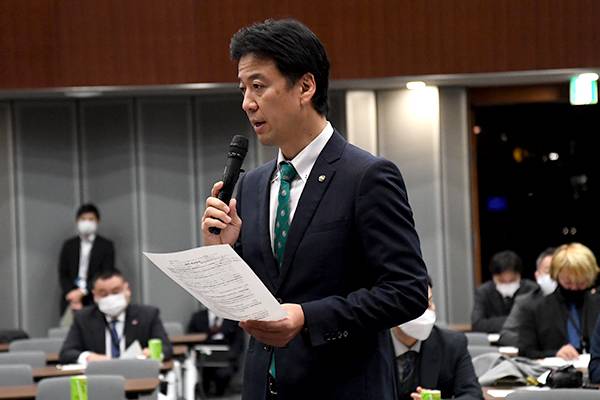 'Under the currently laid out government rulings, restrictions that are imposed on the holding of events and in the use of venues during the COVID-19 pandemic define 'cheering' as:
"When spectators (a) use voices that are louder than normal conversation to (b)  repeatedly or continuously vocalise"
"sustained conversation or loud conversation between spectators"
and
"sustained chanting or singing at sports events"
are listed as examples of same, but that a "spontaneous vocalisation as a result of a goal or similar can be considered an exception"'.
President Ohbari explained that in full capacity professional wrestling events, fans are currently forced to restrict themselves from using their voices in ways other than a sudden and spontaneous gasp, before asking about what truly constitutes breaking the aforementioned rules. 
'Chanting a wrestler's name, like "Nagata, Nagata" would be considered a sustained, repeated or continuous vocalisation and would be in breach of the rules. However, the late Antonio Inoki's famous call of '1-2-3 Daa!', or individual fans encouraging their favourite wrestler with one shout of "Nagata!", "Tanahashi!" rather than a sustained chant, these surely fall outside of this definition'.
Moving on to his requests of the government, Ohbari referenced a study conducted in June at J-League soccer matches on the risk of COVID-19 spread at sports events with cheering crowds. During the study, full capacity stadiums with 40,000 fans were allowed to cheer while wearing masks. The study had concluded that there was an overall doubling of infection risk in such a case.
'The study concluded that vocal crowds double the risk of infection', remarked Ohbari, 'yet in regular New Japan Pro-Wrestling events, the capacity is not 40,000. Professional wrestling events in this country constitute crowds that are a fraction of that number. Considering a percentage increase on the raw numbers in attendance and cases, can we be able to to allow full capacity cheering?'
Ohbari's second request was for easing of restrictions from local municipalities and venues. 
'The government has decided on a national level that without loud voices, venues can allow attendees to 100% capacity. Under new rulings, vocal sections can be at 50% capacity while non vocal sections can be at 100%. Yet there are local governments and venues that do not recognise this ruling. We request that rules are more assertively expressed and maintained'.   
As a further example, Ohbari brought up venue rules that request attendees to list a contact address and number. 'Public bodies are no longer pursuing close contacts (of COVID cases). Yet to this day, several venues request attendees' contact details. Personal information is a very sensitive issue, and a heavy burden of responsibility. I strongly request that mitigation of these measures is clearly and assertively relayed to municipalities and venues in order to preserve the freedoms of individuals and businesses.'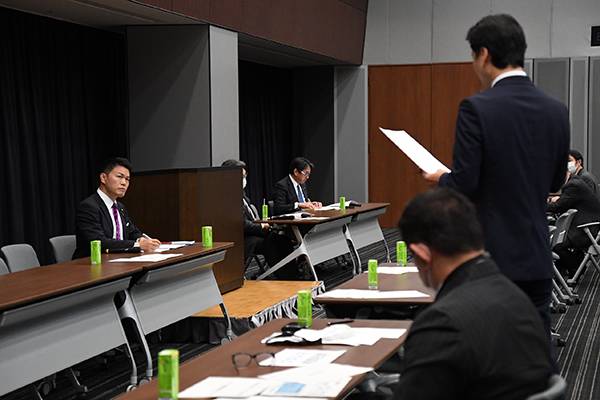 These questions and requests were addressed by the cabinet secretary for infection control measures with the following:
●Question on the definition of cheering
'The definition of cheering varies widely between different fields and genres. We have to consider whether it's a music concert, J-League or what have you, how is this event being held? When we have that information, the next question is discussing with experts within that field "OK, how do we say what is and isn't a cheer?". After this session, I'd like to discuss further with you how we can better define cheering (for professional wrestling)'
●Request on the relief of restrictions from local governments and venues
'You are quite correct in that there is no direction requesting personal contact information on a government level. The ministry of health, labour and welfare no longer requests contact tracing methods, and there is no need to record or retain this personal information. This is something we're expressing to individual municipalities.'
When asked about the possibility that municipalities are mistaken and incorrect in their understanding of restrictions,  the response was that seminars and explanations had been delivered to correctly express rulings to local governments, but that in the event of a misunderstanding, the government office could directly intervene and clarify.
●Request on full capacity pro-wrestling events with cheering crowds 
'Firstly, I would like for us on a systemic level to allow for the current eighth wave of infections to pass. That said, we are considering how best to move forward with the scientific evidence that we possess as matters calm down. As part of that consideration we would absolutely like all the information that we can get about how events in different industries are held, and the results that arise from them.' 
Speaker Sudo then asked for opinions from the wrestlers themselves, with Nagata speaking up.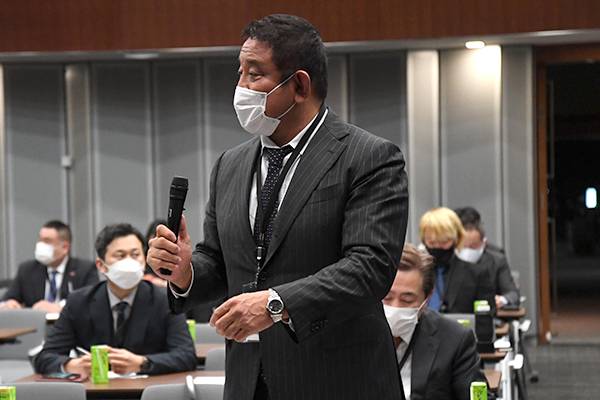 'Most wrestlers and fans alike want to see wrestling with vocal crowds. If you look on a worldwide basis, most countries don't wear masks as a matter of course, and I can't help but ask the question of why it seems to be that Japan should be so different'
In response to Nagata's question, the representative from the ministry of health, labour and welfare explained current rules on the wearing of masks before stating 'we will continue to monitor the status of COVID infections, and how the virus is changing, and adapt accordingly. We recently introduced a redefinition of the Infectious Disease Act, which would reclassify COVID from a class 2 infection to a class 5*. After looking at the scientific evidence we have, we decided as soon as practicable to redefine the virus as a class 5. I think that when that reclassification occurs, stances on masks will follow suit.'  
(* COVID-19 has to now been listed as a class two infectious disease on a ranking of 1-5) 
The MMA representatives went on to present their own requests and discussion points as the caucus continued.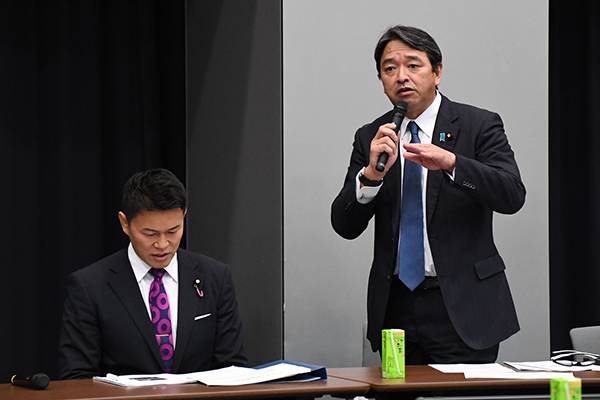 As the caucus came to a close House of Councillors member Katsuya Shinba assertively stated in closing that 'as the RIZIN President stated here today, there is no point in merely presenting these thoughts and not acting upon them. If there are concrete requests presented here of the caucus I strongly want them to be acted upon, and for results to come from what is discussed here'