Hiroshi Tanahashi's life story can now be told in this series of autobiographical interviews, available for the first time in English!
<–Ace's HIGH #103: Raining Gunfire
Ace's HIGH #105 Coming January 18!->
–Last time we talked about you losing the IWGP Heavyweight Championship to Kazuchika Okada at Invasion Attack in 2013. You took some time off afterward, before facing Karl Anderson again at Dontaku in Fukuoka May 3.
Tanahashi: The idea was that after the great match we'd has in Hiroshima, he would be the opponent to help me get my groove back. But then after I won…
–In came Prince Devitt and Bad Luck Fale, and then BULLET CLUB was officially formed.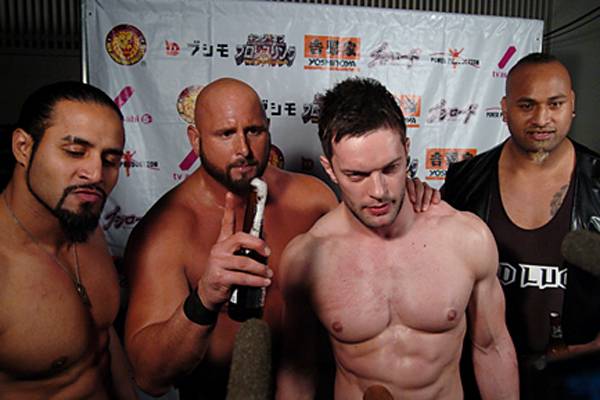 Tanahashi: That was the core four, Devitt, Fale, Anderson and Tama Tonga. I think from there it's no exaggeration to say that BULLET CLUB is the most important faction of the last twenty years at least. Wherever you go overseas you still see fans in BULLET CLUB shirts, and all those people in the top slot over the years, Devitt to AJ to Kenny Omega to Jay White are really best of the best.
–And you were really at the focus of the group coming to be. Obviously in the instant BULLET CLUB was formed, but also before that, when you faced Devitt March 3 at Anniversary. Devitt had a very different attitude at that match, and afterwards him pushing you away and shunning partner Ryusuke Taguchi really sowed the seeds for a new chapter for him.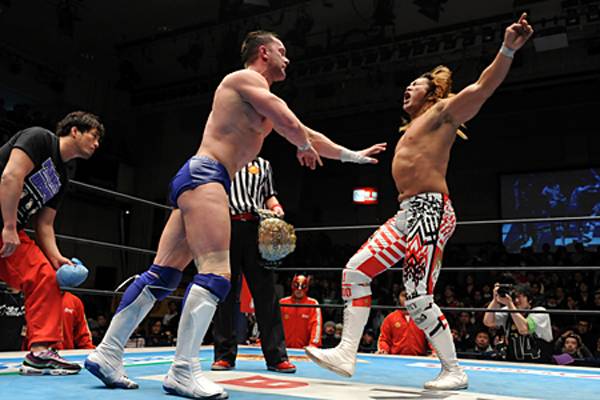 Tanahashi: Right after that was the Apollo 55 breakup, right?
–Right. On April 7 in Ryogoku. Devitt turned on Taguchi and then Bad Luck Fale came to his side, as they planted the seeds for Dontaku.  
Tanahashi: Starting this new faction, it was about making a target out of me. Then it turned into something huge. 
–It really exploded in scale fairly quickly. 
Tanahashi: And with perfect timing, you know? It wasn't long after they got together that NJPW World started. And so you had these foreign fans checking out NJPW for the first time and seeing it wasn't just Japanese wrestlers, but international figures working at the top. So they were really great at creating and then riding the wave. 
–All the BULLET CLUB original members had come up through the Noge Dojo, so the fans had a soft spot for them. Turning into a heel unit was a shock at first but they jumped in feet first. 
Tanahashi: Devitt was incredible in that spot. He was just sop driven with that idea, that if he was going to do it, he was going all in. He completely changed his approach, changed his style. Turned on a dime, started building his matches around punches and kicks. That was all out of a desire to embrace that heel persona and do it properly. 
–It took a confidence to change styles and take that right to the top.
Tanahashi: I think he took risks that really gave him breadth and depth as a wrestler. This phase of his career made him the superstar he is now. 
–The idea of the foreign heels fighting against the Japanese babyfaces was a real throwback, and right at the birth of BULLET CLUB it was a very black and white situation. 
Tanahashi: There was definitely a retro feel to it, I think. Wrestling feuds kind of go in cycles when it comes to themes. You might have generational issues in vogue, rivals who came up together, that kind of thing. You'd kind of think that concept of a unit focused around foreigners would be a trope of sorts, but there's been fewer than you think. So there were nostalgic notes, but it was fresh, and the guys were young, and it all worked. 
–And it transformed Fale's presence, as he started his BULLET CLUB career as Devitt's bodyguard.
 Tanahashi: The 'Underboss' was a great thing for him. Devitt coming out on Fale's shoulder, it was a literal, physical 'power behind the throne' kind of thing.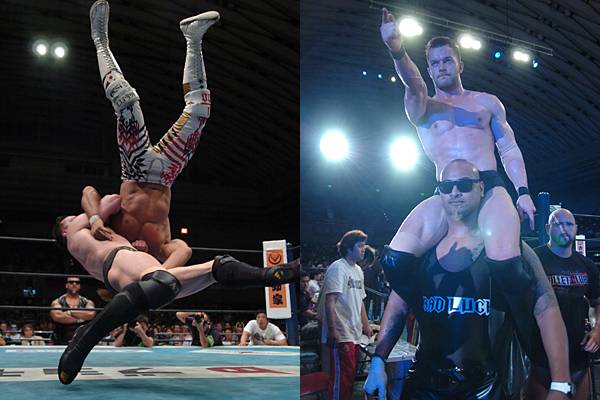 –After BULLET CLUB was formed, Pricne Devitt would win Best of the Super Jr. as champion, and then called his own shot to face you one on one. That led to a match at Dominion that Devitt won with a Bloody Sunday after BULLET CLUB interference. 
Tanahashi: I was going up for the High Fly Flow when Fale hit me with the Grenade. The other thing I remember about that was me trying to respond to Devitt's light up jacket by wearing light up shades. I thought it would set things off, and all it did was make me look cheap, heh. 
–You got a decent pop for it (laughs)
Tanahashi: Everything from the jacket, the 'Real Rock 'n' Rolla' name… Devitt really did so much to brand and build the image of BULLET CLUB. Tough guys, bad guys, cool guys. And with that start, they're still going strong a decade later. 
–And the look with Devitt was muscular as well.
Tanahashi: He was a little softer when he first came to Japan, but the fans saw the effort he put in to get shredded like that. Visually he was a guy you wanted to get behind; I would if I was a fan. And he was developing and becoming more stable as a wrestler as well; he got hurt a lot at first in japan, but those injuries became much less of a factor. As he adapted to the Japanese style, he took a lot of ideas on board, made them his own, and got to be a hell of a talent.