IWGP Junior Heavyweight Champion speaks
Winning the IWGP Junior Heavyweight Championship back at Wrestleing Dontaku, and only defending the gold once in 2022, Taiji Ishimori doesn't have a risk taking record this year. Yet he will start 2023 by taking a sizable one. With his championship on the line in a four way match, he has not one but three challengers coming for his gold on January 4. 
International tickets on sale NOW for Wrestle Kingdom!
Watch Wrestle Kingdom 17 live in English January 4 2023 on NJPW World!
There are incredible junior heavyweights everywhere you look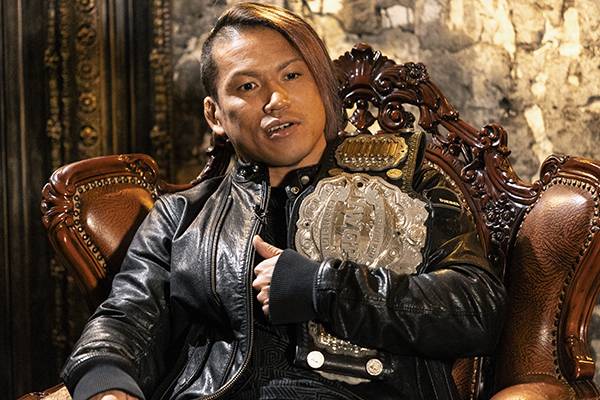 –First of all, how do you feel looking back at the year that was 2022?
Ishimori: Looking back, I think my world view has changed since I won this belt and kept it through the year. I don't need to explain how it's changed exactly; I think that people watching can be the judge of that. I'll just say that at the end of the year, the belt's with me, and that means it's been a gooood year, heh.
–What's your appraisal of the junior heavyweight division right now?
Ishimori: There's incredible talent everywhere you look, so there isn't much time to take a break. For now, Lio Rush is a guy I lost to when I wrestled him on NJPW STRONG last year. Now he's been in Japan in Super Junior Tag League, I know who I want to face after I win this four way at the Tokyo Dome.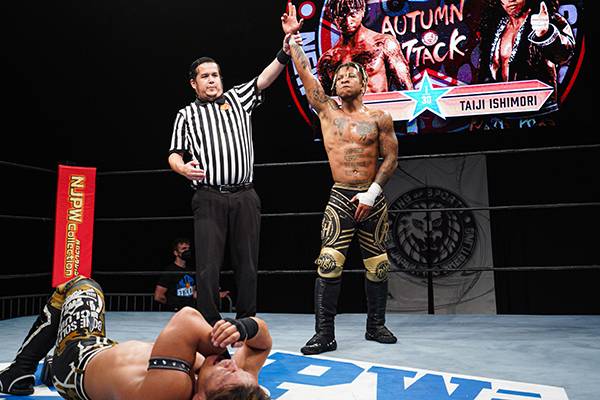 –The junior heavyweight tournaments this year, both singles and tag, really showed some incredible diversity and got fans invested. 
Ishimori: With BOSJ you had Alex Zayne and Ace Austin, the junior tag league had guys like Chris Bey… there've been a lot of guys that really have me asking where might my spot be in a few years down the line. For now though, I plan to stay on top.
–So with the deep roster of junior heavyweights right now, why is it you feel you've been able to stay on top?
Ishimori: That's a hard one to answer. Just in terms of raw ability, it's a razor thin difference. Then some of it is conditioning, or injuries, or sheer dumb luck. It's all of those things together. 
–How does having a lot of potential contenders lined up like this make you feel as a champion?
Ishimori: It's exciting, definitely. It's a loaded lineup and I'm at the top of it. That's always exciting.
–Do you feel a certain responsibility on top of the division?
Ishimori: Not really. I do what I want to do.
–But do you feel there's a certain image of the division that you want to create as champion?
Ishimori: Not for me to say. I don't feel like I'm carrying this division one bit, and don't think I should. I do what i want, and what happens, happens. 
A Schoolkid with stars in his eyes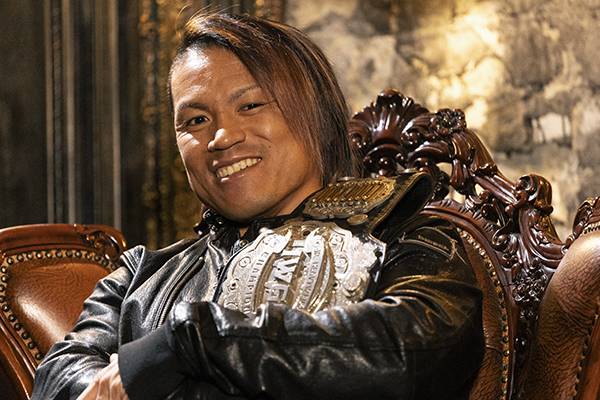 –Can you sum up each of your opponents on January 4 in one sentence each?
Ishimori: Wato… he's a scoolkid, with stars in his eyes. 
–A little childlike?
Ishimori: Eh, he's young, anyway.
–Hiromu?
Ishimori: He's in a class of his own, when it comes to being an attention seeking A-hole.
–He's been quite persistent in pursuing you backstage.
Ishimori: I can't stand him. That's him though.
–El Desperado?
Ishimori: Hmm. I can't put him into the box. But everything he says is really well reasoned, in his mind at least.
–Even if it's wrong, you mean?
Ishimori: He can say the most bizarre things, sometimes. But he always backs up what he says, and then you can't really argue with him. 
I've been through hell more than those three have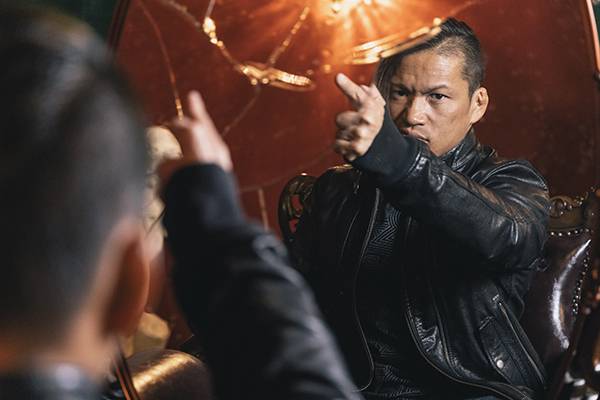 –What do you think of each as wrestlers?
Ishimori: Well, Wato had a chance and he made the best of it. I have to admit that he beat me, so he has to have progressed quite a way, right? He might be a terrible speaker, but he's obviously quite a doer. 
–Being a veteran of your caliber, how do you feel he's progressed?
Ishimori: I mean, for where he is at this point in his career? he's doing good.
–You have more of a history with Hiromu and Desperado, including trading championships back and forth. 
Ishimori: Well, I'm glad this is a four way. If it were singles, that would be damn tough, and not just physically tough. I have to respect the two of them; in terms of popularity and ability, Desperado and Hiromu are the big two, no?
–Desperado always seems to wrestle a near flawless game.
Ishimori: He really does, and that's what makes wrestling him as fun as it is dangerous. There always seems to be something new up his sleeve, and he's always advancing his game. 
–How do you think he'll change with the dissolution of Suzuki-Gun?
Ishimori: I think that makes him more threatening. He's not tied to anything or anyone, he's freed up now, and that's exciting.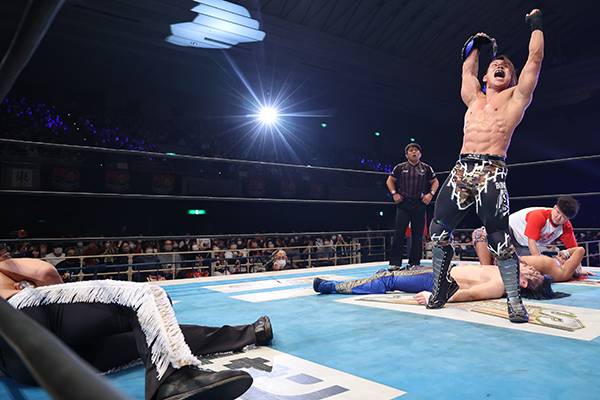 –So what do you feel you have that those other three don't?
Ishimori: I don't really like talking about it, but before I came into NJPW, I really went through hell. I think I've gone through a lot more than any of those three, and I'm better for it. 
–You've fought through more than they have?
Ishimori: They work hard and they do great. But I've been doing this for over 20 years now. So I feel like saying, 'what the hell do you think you can do if you take this spot from me?'
–You think they lack something?
Ishimori: No, it's not that. I lack a whole bunch of stuff. I won't tell you what, though. 
I want the fans to be impressed by the juniors, sure. But I mainly want to win.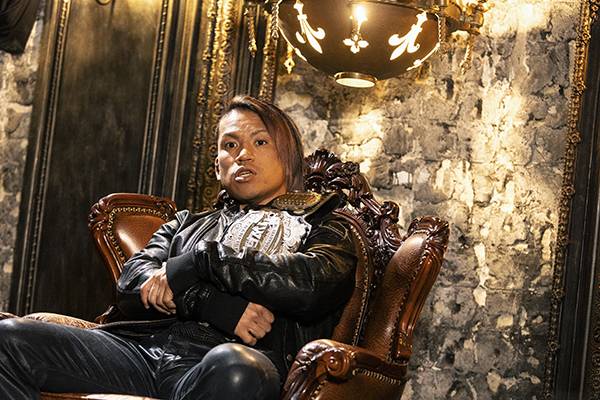 –Back at Battle Autumn in Osaka, you were all part of that Incredible Tag match. It really felt like you had the other three eating out the palm of your hand, and with you having proposed this four way in the first place, do you feel the situation benefits you?
Ishimori: In November the cards fell the way they did; if people think that makes me skilled somehow then they're welcome to I guess. The four way though? They were all there and I figured it was the only way to move past the whole pain in the ass.
–How do you feel about being in a match where you don't have to directly lose to lose the title?
Ishimori: It's the same situation as Madison Square Garden (G1 Supercard, 2019). I lost the title and didn't lose the match then. So there is a bit of wanting to exorcise those ghosts. I hope they all try and take the belt straight from me. They won't do it.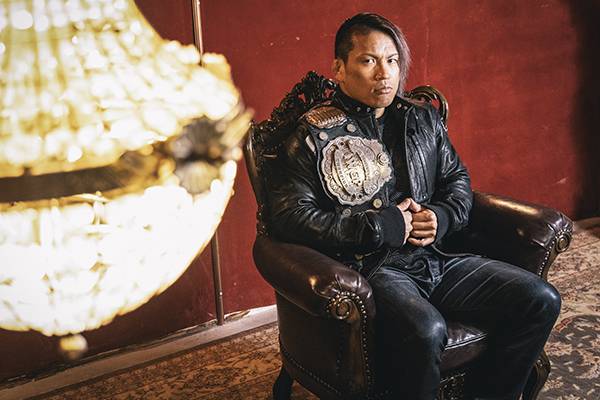 –What kind of match do you want to have in the Dome?
Ishimori: Well, it's all about adapting I think. See what's going on, see how I can turn things in my favour, and head in that direction. If the fans get on board with it as well, so much the better. 
–Is there anything you want to put out there as a junior heavyweight champion with the world watching?
Ishimori: It's a loaded card, and in all of that, I want the fans to be impressed by the juniors, sure. But really I want to win. That's what I'm there for. 
–You're high up on a main card where some notable names like KENTA and EVIL in BULLET CLUB alone aren't. How is the competition behind the scenes? 
Ishimori: It's a battle for survival, it really is, and factions and allegiances don't factor into that. There's only a few people that are on that main card, junior or heavyweight, and I'm a survivor. 
I am the best junior heavyweight in the world
–With a double main event on January 4, you're effectively in the semi main position.
–Ishimori: NJPW likes their double main events. Honestly I always think like, why can't we have a four way main event?  We're making enough noise here. I donm't see why not, or why the junior heavyweights can't main event either. 
–This is obviously an Antonio Inoki Memorial card. What does the term 'fighting spirit' mean to you?
Ishimori: That's a hard one. What's Strong Style, for that matter? I think it's different things to different people. There isn't a right or wrong answer, and maybe that's what fighting spirit is to me. It's an invitation to a world where there are no right answers. 
–Is it something you're aware of as you wrestle?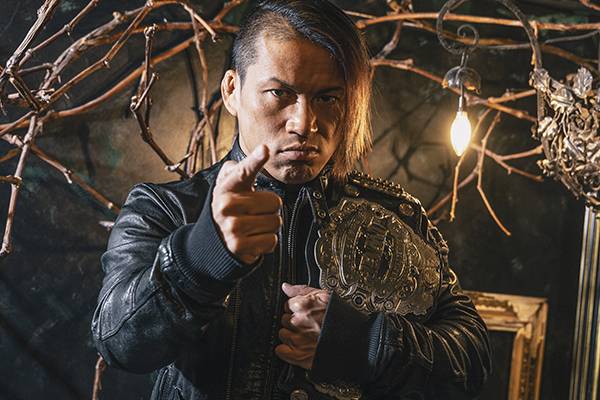 Ishimori: Like I said, there really isn't an answer. Where I started and came up is different, but being a part of this memorial event has really made me feel emotional. 
–What does the IWGP Junior heavyweight Championship mean to you?
Ishimori: It means I'm the best junior heavyweight wrestler in the world, right? The more people that fight for the right to challenge me, the more people that I push aside, the further at the top I stand. 
–You've got a lot you still want to do as champion.
Ishimori: Lots I want to do, lots of people I want to face. Can't do that if I'm not champion, so I have to win. 
–How will 2023 shape up for you as you approach 21 years in the business?
Ishimori: I had a good 20th anniversary,, but I didn't mark it any special way. It would be pretty cool to stay junior champion and challenge the IWGP World Heavyweight Champion…
–It sure would. 
Ishimori: To do that I think I'd have to dominate BOSJ and then enter the G1 and produce there. So there's a lot of places where I need to have my presence felt.