IWGP United States Champion speaks on January 4's dream match
It could be called the most dangerous of all dream matches. Kenny Omega and Will Ospreay are certainly both known for pursuing victory at any and all cost, and that's what will define an epic main event presented by LEC at Wrestle Kingdom 17. Days before the Dome, we spoke to Ospreay. 
Watch Wrestle Kingdom 17 LIVE IN ENGLISH, only on NJPW World!
He's scared of his shadow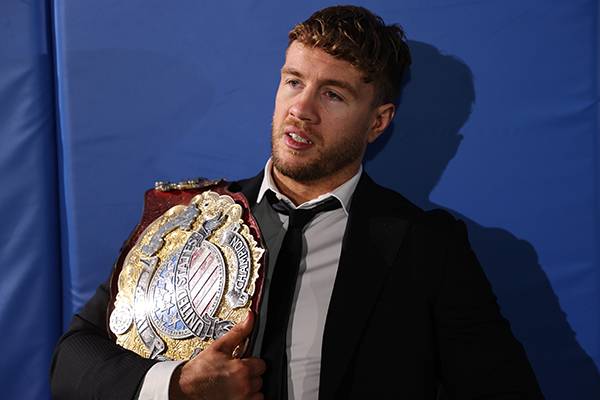 –The announcement of yourself versus Kenny Omega certainly made for a lot of hype. The words 'double main event' get used a lot in wrestling promotion, but do you feel like Omega vs Ospreay is the true main event of Wrestle Kingdom 17?
Ospreay: I think it's the most interesting match. Main event is hard to say because while we are celebrating 50 years of New Japan pro-Wrestling, as much as it guts me to say, we're also celebrating Inoki. The traditional way should, be to have the IWGP World Heavyweight Championship in the main event. But I think a lot of people are more fascinated to see who really is the best foreigner to ever grace a New Japan Pro-Wrestling ring. So I think it's a truly interesting concept where you can actually use that phrase double main event.
–People who followed the tensions between you two online over the last year and knew all the stories and rumours maybe saw this match coming somewhere, and maybe you did yourself. But what went through your mind when Kenny did appear on screen in Ariake?
Ospreay: At, at first I thought it was a bit of a joke. I thought someone was playing around with me. But as he started talking more and more, it became more clear that this has all been something that has been hurting Kenny very deep. He's been paying extremely close attention to everything that I've been doing, and he's almost obsessed with what move I make next. I said this in my backstage comment but the reality is… Everyone is saying is I have been wrestling in Kenny Omega's shadow. And while the bright lights of AEW have hid that shadow, I've just got bigger and bigger and bigger. Then as soon as those bright lights in AEW wore off, and he's seen the size of his shadow, he's almost scared of it. So it's gotten to the point where he needs to come back to New Japan to try and put it out himself, because if he doesn't maybe I'll get too big and I'll conquer the world.
The Tokyo Dome is where Kenny Omega was made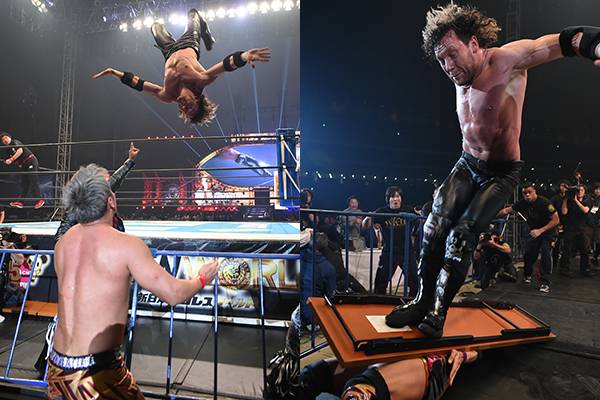 –You've been back and forth to AEW since the summer. Why do you think it's important this match happens in NJPW and the Tokyo Dome, and why do you think Kenny chose to come here rather than ask you to come to the States?
Ospreay: I do believe what Kenny says about he wants to give one more showcase to the fans. I do believe that. But I also believe that the Tokyo Dome is where Kenny Omega was made. We all remember that match with Okada, that first one. That made Kenny Omega the forefront of not just foreign wrestlers, but all of NJPW. He was, the centerpiece, especially when it comes to even the United States branch of, of branching out. So to do it in the Tokyo Dome, where he became who he is now, it's almost poetic that I've got to put out that flame.
–There was a line in the video message from Kenny that you and the foreign wrestlers who only communicate with Japanese fans with Google translate are the real pandemic in New Japan. How did you take that line?
Ospreay: Well, I don't see us as the real virus, but I think he, I think he used the word virus, right?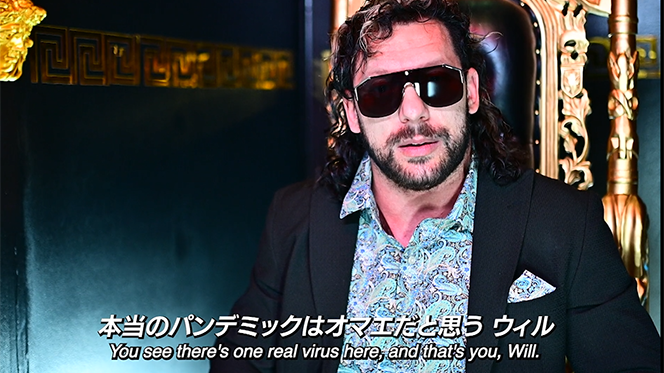 –Yeah.
Ospreay: I don't see us as the virus right now, I see us as the antidote. We're the fresh new things on the block, I mean, that match I had with Finlay in Kobe, was that the first sell out of the pandemic?
–It wasn't the first sell out but definitely every time you're in that spot, we're doing bigger numbers since before the pandemic. It was the biggest Kobe crowd since the pandemic, you and Okada blew away attendance in the Budokan since before the pandemic. For sure you can make that argument.
Ospreay: So.. that's my point. The thing is, I tried to learn the language, but I can barely speak English, bro. I'm not, I'm not gonna hide the fact that I'm not very good with the language. And I'm not very good… even with the culture. The culture scares me a little bit, it intimidates me. I won't sit here and pretend that I'm fully educated about how the Japanese culture works, but I'm fully aware of the work ethic behind Japanese professional wrestling, and the work ethic is second to none. You can believe that even though I can't speak the language, you can't help but admire the work ethic and the work that I put in.
So I don't think I'm the virus at all, you can argue that me and the United Empire, we're kinda the antidote right now. We're the shot in the arm that New Japan needs. And I think if that shot in the arm wasn't there then New Japan would be in a worse place.
You took a bet with a billionaire's son's money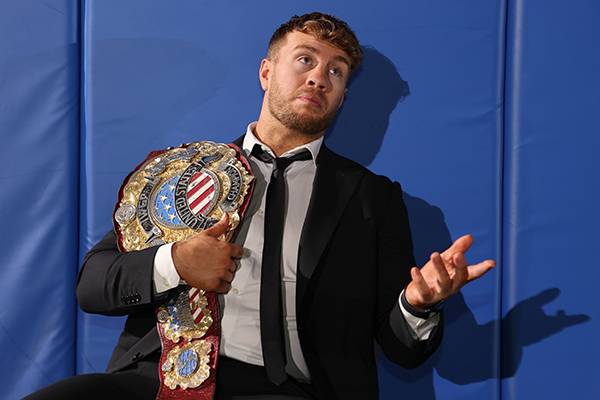 –The last couple of years has been about you with the United Empire. You made a break that was similar but different to the way that Kenny did in 2016. Kenny attacked AJ Styles, took over BULLET CLUB, and you struck out from Okada.
Ospreay: Mmm.
–Kenny said this in a pre-tape with AEW. "What makes us so different, Will is that I carved my own path through my own hard work. You took the easy way out and you always leaned on other people to bail you out when you couldn't make a mark". How do you respond to that comment?
Ospreay: I think it's kind of rich coming from him, saying that he gambled, created his own path.
He just was.. like "we gambled on ourselves"? You took a bet with a billionaire's son('s money), bruv. Calm down.
So, the thing is, I'm not going to deny Kenny's star power at all. I'm sure when you look at the fan engagements behind Kenny Omega, I'm sure it spiked, I'm sure ticket sales have gone up on this match, front and center, you said it. Like, I'm not denying Kenny's star power, I'm not denying that so many people want to see Kenny back in a New Japan Pro-Wrestling ring. But what I will deny until I'm blue in the face is (the idea) that you're better than me. I don't think anyone's on my level. There's a reason why you came back. You've got a cushy job with AEW, getting paid ludicrous amounts of money, and you've decided to come back. I do think that's because you're scared, I think if you don't do something about this now, while you're still able to be the Kenny Omega that we still kind of remember, if you can shut it down now then maybe you're in with a chance of extinguishing the flame that Will Ospreay is. But I don't think you have got a chance anymore.
I honestly believe that this is my time, and just like the Tokyo Dome did for you back in 2017, and it skyrocketed you into a new stratosphere of star, that's exactly what's going to happen to me. Because all those people that you've brought back to new Japan, all those guys happy to see you back- they're all going to see you go down to me. That's the most beautiful thing. I won't deny your star power at all, I won't deny your drawing capability at all. But you're going to bring in all these people that are going to watch you lose.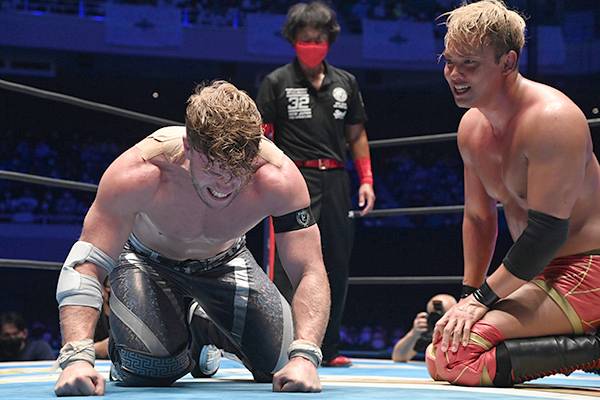 –You brought up Kenny's match with Okada in the Tokyo Dome, and you and Kenny are both connected to Okada. Why do you think that Kenny could beat Okada in a way that you couldn't?
Ospreay: I still haven't worked out the answer to that. I'm still trying- I've watched every single match back. Every Tokyo Dome match, every G1 final, every New Japan Cup match that I've ever done against him, and I don't know what it is, it's kind of like a missing ingredient. But, I'm into puzzles man, and I enjoy finding out how to crack all these puzzles. Okada is going to be a missing ingredient and I won't know how to do that until I conquer something else. Maybe this is the pathway. Maybe this match with Kenny is going to open doors, and open my eyes as to how after this I can beat Okada.
But I can't really think of that right now. Look, Kenny is an enigma. Kenny is one of the best wrestlers that have ever graced pro-wrestling and I will never deny that.  He's incredible at what he does. But it's a tide shift now and things are going in a different direction. I'm learning, I'm growing and evolving every time I wrestle. I feel in my gut that I'm the best that I've ever been. So it's, it's now or never really. It's time to really, to grab this by the horns and really try and push this as far as I can go. So I don't know what the missing ingredient is to beat Okada, but I think I know how to beat Kenny.
Kenny isn't as calculated as I'd imagine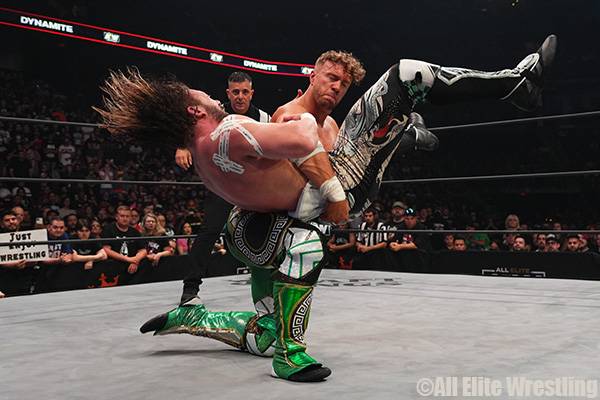 –Was that something you felt when you faced off in AEW during the trios tournament? Did you get any hints on facing him?
Uhh, I feel like especially because Kenny had only just come back from an ungodly amount of injuries like, the mission objective, it would have been nice to win those trios titles, but the mission objective wasn't to beat him, it was to hurt him. And I was able to get even, do you know what I mean, after all the "Sugar Honey Iced Tea" (S.H.I.T) talking, and all the cease and desists and all the back stabbing, I just wanted to hurt him, and I accomplished that mission.
But I did see flaws. He's unstable sometimes in his wrestling. He takes his eyes off the ball, he isn't as calculated as I would like to imagine. His stri- he hits hard and he's very creative, but he takes his eye off the ball to do silly taunts and put himself in positions where he knows he has openings that I can seize on. So, this is where I think, I've mastered. I never take my eye off of a guy. I take risks, sometimes they don't pay off, but I, I, you can't argue with my win:loss record this year. I think I've lost like six matches this entire year. So my gameplan with this is I have to be a very defensive wrestler, and I have to wait until Kenny makes his moves so I know how to counter and come back.
–You mentioned the word stability, and that was another thing that Kenny said about you in his interview, that 'you're unstable and unintelligent, and that's why you fail'. Do you think that's…
Ospreay: Hypocritical (laughs)
–Hypocritical maybe, but also people have a certain impression of Will Ospreay, just like they have an impression of Kenny Omega that they refuse to change regardless of what happens. Do you think it's an outdated idea of you?
Ospreay: The thing is, Chris, I'm, I'm not gonna deny that I'm not the smartest cookie in the cookie jar. I do something and think about the repercussions later. Many of which in hindsight I wish I could've taken back, hey. But right now I think I'm the most cool headed that I've ever been. I.. I feel like I'm laser focused now on the task hand, and that's to do something that Kenny's never done. To take NJPW out of the dark ages.
I knew Kenny was the man
–What was your take on Kenny when you first met him, in…
Ospreay: It was 2015, actually, in PWG I had a match with him. It's real crazy that you bring it up, because I think it was seven years ago to this day as we're speaking that I wrestled him. A weird coincidence. Both him and I didn't know I was coming to New Japan at that point, but afterwards he gave me a lot of advice, and then  obviously I came to New  Japan and I made my mark in CHAOS, so we didn't really speak or really acknowledge one another.
But I knew Kenny was the man. Do you know what I mean? The way Kenny wrestled was the way I wanted to wrestle. The way that he acted, the way he projected himself was- that's how I wanted to be like. That's how I wanted to showcase myself and my ability. But- I don't know, as time went on… I've said this before that when me and Kenny bumped into one another at the Tokyo Dome, we had a little chat with one another. And he, told me that he was on his way out and that New Japan was going to rely on me. He said that it's time for me to pick up the ball and run with it. I feel like I did that, it's just that, and I don't know whether it's some weird form of jealousy, or something where he thinks that  his opinion is correct when it comes to the way wrestling should be… I don't know.
Look the thing is once again, I used to look up to Kenny. I used to, like, even though I was a CHAOS guy, I was in awe of it. But what do you want me to say now? It's well and truly over with. I have no admiration for him. No love lost for him. I just know that he's one of the best wrestlers of all time, and I feel like right now, I'm one of the best wrestlers of all time. And I feel like for the Japanese fans, this is a moment to see who really and truly is the best wrestler in the world right now. 
There is still a heartbeat in New Japan, and it resonates from United Empire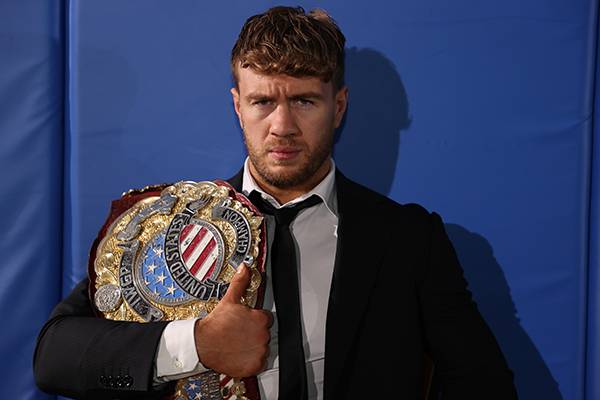 –It's interesting that Kenny is pretty much exactly ten years older than you, and we go through this cycle of the older generation criticizing younger wrestlers. With 50 years of NJPW behind us, with Antonio Inoki being remembered as well, what does NJPW mean to you in 2022, 2023? What does that idea of Strong Style that Inoki promoted mean?
Ospreay: It's a desire to win. It's… pro-wrestling is competition. About pushing yourself and trying to be the greatest at this. There are a lot of people that will call themselves the GOATs, that will call themselves the best in the world, there's so many, like so many catchphrases, but to me New Japan and Strong Style to me means that burning spirit inside of you for when you do this.
It's something that's telling you even though your body is sore and in pain and you can feel ligaments tearing, bones in places they shouldn't be… and you wake up every night wondering why do you do this? And it's because of that burning spirit, the burning desire to win. That feeling of never giving up for the people that supported you, to the family that's at home, to the boys surrounding me at ringside. It's a desire to put food on their plates. A desire to ensure a happier and healthier lifestyle going forward. And inspiring the next crop of talent to push just as hard as we did. I don't know a lot about the history, but I know a little bit about Antonio Inoki, and I do know is that he had the burning spirit, that every single person on our roster has to push through and do their best, to deliver their performances for the NJPW fans, because that's just what he did back when NJPW first started.
–Katsuyori Shibata recently talked about the idea of that fighting spirit- tokon- perhaps ending with himself, Hiroshi Tanahashi and Shinsuke Nakamura.
Ospreay: I feel he's thinking of, more like stylistically wrestling wise. I can happily say I'm a fan of Shibata's style and his wherewithal, but you can't say I haven't got spirit.
I had an infection this year that nearly killed me. And instead of saying hey I'm going to take the rest of the year out, I was back within two, three weeks. How can you say that's not burning spirit? That I- in the face of death, I lost all my body mass, I was on an IV drip and the first thing I was thinking of was 'when can I come back, and when can I perform in a New Japan Pro-Wrestling ring for New Japan fans'?  That's burning spirit. That's a will to win, and a will to bring NJPW out of the dark and into the light. So if he wants to believe that will die with Nakamura, Tana and himself, he's entitled to his opinion, but the facts are and remain that I'm here, delivering, and the United Empire are delivering and showing there still is a heartbeat in New Japan, and it resonates from us.
–Can we get a last message for NJPW and AEW fans that are going to be watching Wrestle Kingdom?
Ospreay: What can I really say? It's Kenny Omega vs Will Ospreay. Two of the greatest foreigners to have ever been in a New Japan Pro Wrestling ring. Two of the greatest performers in all of pro-wrestling right now to this day. A dream match right now in front of your eyes. It takes place in the Tokyo Dome, at Wrestle Kingdom in what many people are calling a double main event.
See you at the top, Kenny, and I hope every single person in the NJPW fanbase, AEW fanbase and just pro-wrestling fanbase enjoys, because it's going to be the absolute greatest spectacle that I can give.