Kenny Omega makes his electrifying comeback! Cody Rhodes returns to Japan! Adam Cole, Jay Lethal, War Machine, the Briscoes and the Young Bucks are all set to do battle at Honor Rising!
We are excited to officially announce the stars that will appear at Korakuen Hall on February 26 and 27 for 'Honor Rising: Japan 2017', presented in conjunction with Ring of Honor Wrestling.
Honor Rising: Japan 2017
February 26 2017 18:30 Korakuen Hall
February 27 2017 18:30 Korakuen Hall
■Kenny Omega to have an electrifying comeback, while the VIP Cody makes his long awaited return to Japanese soil.
First is the comeback of the man who's been at the center of attention since January 4th. 'The Cleaner' Kenny Omega's match with Kazuchika Okada at Wrestle Kingdom 11 instantly became the stuff of legend. Yet after New Year's Dash the next night, Omega announced that he would take some time away from the ring, and was absent from the New Beginning tour.
Now, the man the world is talking about finally reappears. How will Omega make his presence felt amongst the stars of Ring of Honor?
Next: Wrestle Kingdom 11 saw the Japanese debut of former WWE superstar and self professed VIP, Cody. After a decisive victory over Juice Robinson, and finally free to show his true colours, Cody is coming back to Japan. As part of the Bullet Club, what will Cody do on his return?
■Ring of Honor World Champion Adam Cole! Jay Lethal, War Machine and The Briscoes all a part of Honor Rising!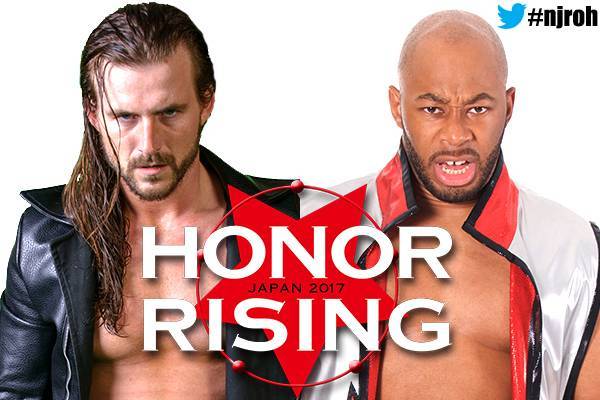 Once more, the name 'Adam Cole Bay-Bay!' will ring loudly around Korakuen Hall, as the Ring of Honor World Champion is back on Japanese soil. Will his title be on the line during Honor Rising? If so, former champion Jay Lethal may be in contention, as he makes his return to Japan for the first time since November.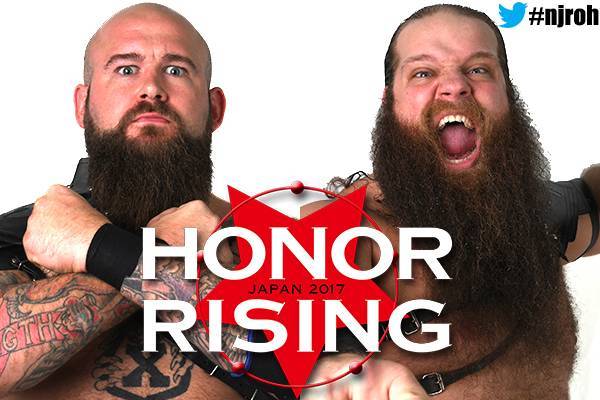 They were breakout stars of the 2016 World Tag League, winning matches and the hearts of fans with their monstrously aggressive style. Now, the colossal combination of Raymond Rowe and Hanson- War Machine- make their long awaited return to Japan. Their unnatural speed matched with unparalleled strength should make for an explosive combination.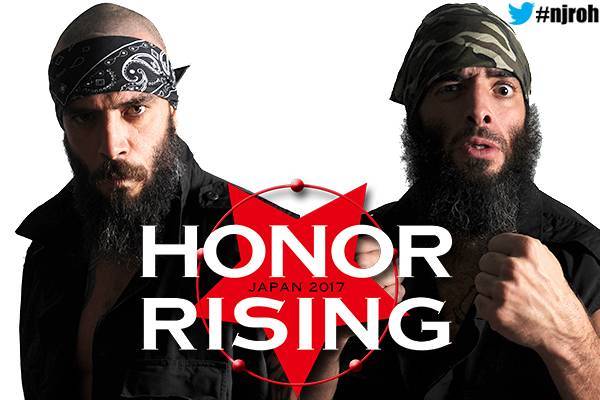 Last year, the legendary tag team that is The Briscoe brothers captured the IWGP Tag Team Championships. Now, the masters of tag wrestling return to surprise and amaze Korakuen once more.
■The Prince of the Peacocks Dalton Castle is finally back, and two sensational athletes make their Japanese debut!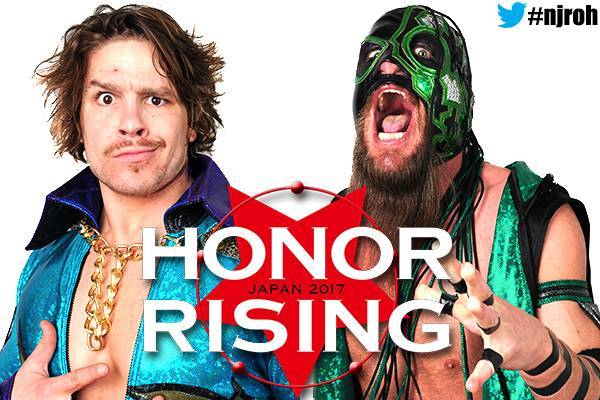 He was a sensation at last year's Honor Rising events, and after a one year absence, the Prince of the Peacocks, Dalton Castle, is finally coming back to Japan. While nobody can top his flamboyant presentation, it's also hard to beat Castle's amateur wrestling credentials and considerable natural ability.
Speaking of natural, it is only natural that the ROH locker room leader Delirious should make his way back to Japan. Bringing his unorthodox ring style with him, he's sure to make a loud and very physical, if not entirely comprehensible, case for Ring of Honor.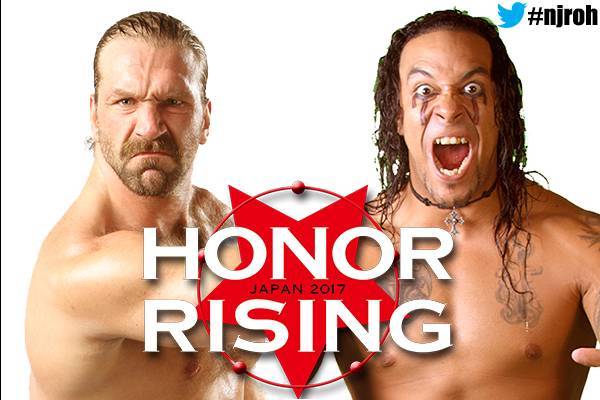 Next is a pair of faces making their first trips to Japan: Silas Young and Punisher Martinez. In 2016, Young left quite the mark on Katsuyori Shibata when they battled in ROH. This six foot
243 pound heavyweight, with his swept back hair and trademark facial hair calls himself 'The Last Real Man in Professional Wrestling', and has a bar room brawl style to suit.
Punisher Martinez, at 6'8'' and 251 pounds is a monster of a man, but one with preeminent physical ability and technical expertise. Will he show his full potential on his first trip to Japan?
■The Young Bucks, Tama and Tanga, Fale, Hangman Page! Bullet Club is back in force!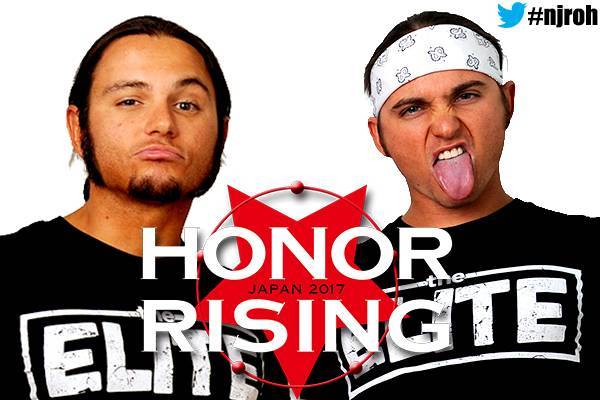 After missing The New Beginning out of solidarity with their leader, the Bullet Club is back with a vengeance. As Kenny Omega's best friends, former ROH Tag Team Champions The Young Bucks may well be looking to once again form an Elite combination.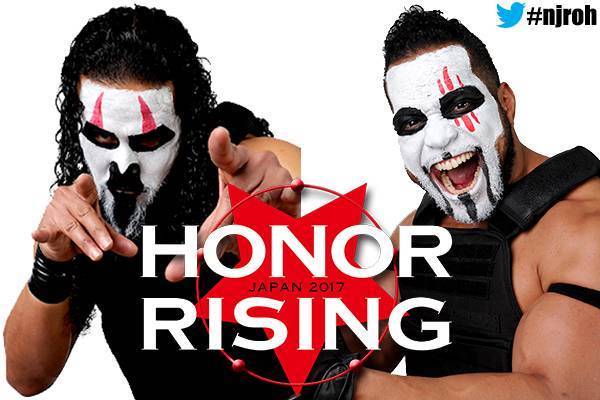 After losing the IWGP Tag Team Titles in a three way match on January 4, Tama Tonga and Tanga Roa, the Guerillas of Destiny, are back in Japan, with a monstrous desire to get back in title contention.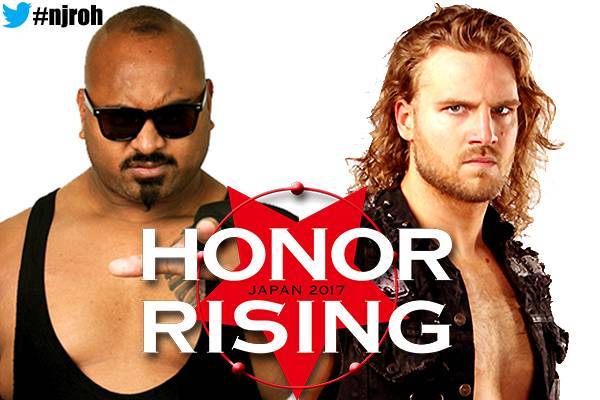 Speaking of monsters, Bad Luck Fale is back, along with Hangman Page, who surprised many with the effective displays of teamwork shown in World Tag League 2016 alongside Yujiro Takahashi.
That's not all, as CHAOS regular Will Ospreay, and the widely loved Juice Robinson will also be part of Honor Rising.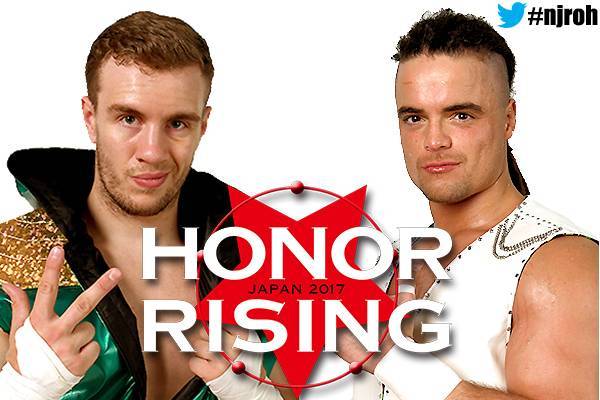 All told, a massive 20 international stars will be involved with Honor Rising: Japan 2017. We hope you will join us as part of this extravaganza, too!