Three title matches made so far, with more action still to be announced
It may be taking place later in the schedule than initially planned, but Dominion will still bring a huge summer night of action to Osaka Jo Hall, following the New Japan Cup final the prior night in bringing a restricted crowd of fans to the venue for the first time in 135 days. Sunday's card will not be fully finalized until we know the results of Saturday's New Japan Cup final, and plenty may develop during the night of action on Saturday as well, but for now, there are three matchups to get fired up about. 
Watch Dominion in Osaka Jo Hall live and on-demand with NJPW World!
IWGP Heavyweight/Intercontinental Championships: Tetsuya Naito vs X (New Japan Cup winner)
After it was officially determined that the winner of the New japan Cup would earn a double championship opportunity against Tetsuya Naito at Dominion, one half of our main event was already set, but his second double championship challenger still needs to be determined. So what are the key factors at play on July 12?
The 'known known' of our main event is Tetsuya Naito. Even after becoming the first ever double IWGP Champion in the Tokyo Dome on January 5, many speculated that his obsession with making history at Wrestle Kingdom would so consume El Ingobernable that his eventual reign would be a short one. As KENTA stepped forth to challenge at New Beginning, in the same Osaka Jo Hall that Dominion will emanate from, Naito's record of fan rejection and crushing defeats at the hands of Kazuchika Okada, Hiroshi Tanahashi and Chris Jericho in the past were pointed at as portents of Naito being a one and done champion. 
A bloody Naito dispelled all of those concerns, and finally able to get the triumphant ending to the evening that he had deserved after his historic January win, seemed to properly cement his double championship reign. We know, without doubt, that Naito is a formidable champion, and that any ghosts of his past that lingered in Osaka have been effectively exorcised.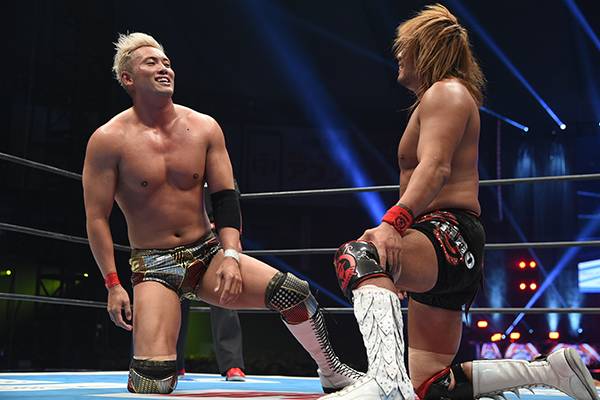 The 'known unknown' will come in the form of his challenger on Sunday. Naito must prepare himself for either Kazuchika Okada or EVIL at Dominion, with each presenting their own challenges. Naito certainly knows Okada can be beaten; he lodged the '4' in a 5-4 record against the Rainmaker on January 5 to banish bad memories from two years earlier to finally live his dream. 
 Naito certainly knows that EVIL can be beaten as well. While Los Ingobernables De Japon was still in its first year as a unit, the King of Darkness met El Ingobernable in a competitive and hard hitting G1 Climax 26 meeting, which Naito came out on top of. Yet much has changed in the intervening four years, and that brings us to the unknown unknowns of Sunday's main event. 
EVIL has truly lived up to his name during this New Japan Cup. Underhanded tactics and inhumanly brutal assaults have marked his journey through the bracket. Most notably an assault on YOSHI-HASHI led to a two minute stoppage victory that will stand as the Headhunter's last match for a while, and low blows and swung chairs leaving a heavy mark on his semi final victory over tag team partner SANADA. For his part, Naito has expressed eagerness for EVIL to emerge from the shadows of LIJ and make a mark for himself, but that could come at the ultimate price for the champion. 
Then there's Okada, who is long used to his position leading the way in NJPW, and wants official validation in doing so as wrestling emerges from a long quarantine period. In the early part of the year, Okada spoke about how being away from the IWGP (Heavyweight, the Rainmaker still expressing no interest in the Intercontinental) Championship would afford him more ability to explore possibilities in pro-wrestling away from the richest singles prize. Yet as NJPW returned after a 110 day absence in mid-June, Okada's tone shifted; now he felt he needed to once again be at the top to 'bring the power of New Japan Pro-Wrestling' and unite the world behind the Rainmaker once more.
It should be noted that ever since Dominion found a regular home in Osaka Jo Hall back in 2015, Okada has main evented every single card, but not always happily; in 2018, a 720 day IWGP Heavyweight Championship reign came to a crashing halt at Dominion, while his victory over Chris Jericho last year was given some ugly punctuation when Jericho assaulted the then champion after the bell.
And what of each wrestler's respective physical conditioning? Okada or EVIL would be wrestling their sixth high profile singles match in under a month, while Naito will be in his first. Certainly Naito has absorbed less punishment over the last few weeks, but ring rust might be a factor; even the champion himself voiced such concerns after a slip on offense during a recent tag bout. Question marks abound for July 12, but this is certainly an unmissable main event. 
NEVER Openweight Championship: Shingo Takagi vs SHO
Singles record 1-1
Also confirmed for Osaka Jo Hall is SHO's first chance to challenge for NEVER Openweight Championship gold as he takes on The Dragon, Shingo Takagi. 
Seeds seemed to be planted for this championship encounter right from the very day Takagi won the title. When Shingo took on Hirooki Goto in Sapporo on February 1, SHO was sitting at ringside for commentary, and upon Takagi's victory, the two would engage in a tense showdown before the new champion asserted that SHO was getting ideas above his station. 
That was only one verbal snipe in a long held issue between both men. When Shingo Takagi made his NJPW debut in October 18, SHO was one of the men on the other side of the ring, and was made to instantly understand that a major competitor to his status as strongest junior heavyweight had arrived. Through clashes for the IWGP Junoir Tag Team Championships, SHO's distaste for Takagi only continued to develop, until a brutal, hard hitting bout to open last year's Best of the Super Juniors saw the Roippongi 3K member narrowly defeated. 
Takagi would go on to win every match in his block, only falling short in the final, and taking his first pin in NJPW, to Will Ospreay. Entering into the G1, Shingo would declare himself a heavyweight soon after, and his issues with SHO would go on the back burner until the great weight class equalizer of the NEVER Openweight Championship made another match a possibility. 
Still, Shingo would deny SHO's worth as a challenger, even in the wake of their first round New Japan Cup meeting. SHO made the most of his introduction in the tournament, landing heavy hits and using his jiujitsu mastery to take some of the sting from Takagi's Pumping Bomber arm, before a Shock Arrow led to SHO's advance and Shingo's exit. 
Takagi would liken himself to the 'final boss' of SHO's videogame campaign, teasing that 'one victory over me doesn't mean you've beaten the game yet'. On July 3, after a CHAOS vs LIJ tag contest, SHO would deliver a thunderous spear to Takagi before declaring emphatically that he wanted the NEVER gold. Now, with the title on the line, could SHO become only the second junior heavyweight to win the NEVER title, or will he run out of credits against his formidable foe?
IWGP Tag Team Championships: Golden☆Ace (Hiroshi Tanahashi & Kota Ibushi) vs Dangerous Tekkers (Zack Sabre Junior & Taichi)
The third of three matches official so far for Dominion sees the IWGP Tag Team Championships at stake, in the latest chapter of a turbulent narrative in NJPW this year. 
After the Guerrillas of Destiny held IWGP Tag Team gold for the lion's share of 2019, the first two months of NJPW action in 2020 saw three different sets of champions. A victory for David Finlay and Juice Robinson at Wrestle Kingdom saw FinJuice win their first titles over GoD, but less than one month later in Atlanta, Jado interference and title belts off skulls led to  the championships going back the way of BULLET CLUB. In the midst of this back and forth stood Hiroshi Tanahashi and Kota Ibushi, who made their prior alliance into an official team at New Year's Dash, and made an official claim to the tag belts when defeating GoD in eight man tag action at New Beginning in Osaka. 
Despite questions over Golden☆Ace's lack of experience as a team, Ibushi and Tanahashi won out in a Korakuen hall war on February 21, with Ibushi winning his first heavyweight tag team championships, and Tanahashi scoring his first tag titles in over 14 years. While both GoD and FinJuice had legitimate claims to a title opportunity though, it was Dangerous Tekkers leaping to the front of the queue. Taichi and Zack Sabre Junior attacked after the Korakuen bell and made their title intentions painfully clear. 
Still, the global pandemic put paid to any intentions being acted on for months. When NJPW did return to action, Taichi and ZSJ benefitted most from being the only prospective challenging team to remain in Japan; when New Japan Cup began, it was Taichi making the most of the situation. 
Yes, interference, first from DOUKI and then from ZSJ played a significant role in both of Taichi's new Japan Cup victories. Yet his brutal suplexes and hard strikes would legitimately earn Taichi his consecutive wins over Tanahashi and Ibushi. Taichi would crash out to SANADA in the cup in the quarter finals, but a statement was made, and emboldened on July 3's semifinal card, when Taichi took hold of the tag team championships before tossing them at Ibushi, daring him to 'pick them up, because we're challenging'. 
Certainly, Dangerous Tekkers' history as a team together is in their favour. Taichi and ZSJ can point to a strong, 18 point earning performance in last year's World Tag League that includes a victory over eventual winners FinJuice, but the champions were able to overcome a significant experience gap as a team to win the titles from six time champions GoD in the first place. What we can expect Sunday then, is an evenly matched battle of high impact strikes, effective submission work, and the courage and determination of the champions against the Suzuki-Gun branded evil of the challengers.