Taichi's pre-G1 thoughts
In a G1 Climax B Block full of hard hitters, Taichi is a figure that's bound to make waves. After a 2021 campaign was affected by injury and a second half collapse in results, this year the Holy Emperor is looking to bounce back in a major way, and offer his YouTube subscribers some primo content in the process. 
Watch ALL of G1 Climax 32 LIVE in English on NJPW World!
You'll have to throw me a super chat to ask questions
–OK Taichi, let's get started.
Taichi: Hm? What's this for?
–Well, we'd arranged for an interview…
Taichi: Well, I'll talk, but if you want to ask me questions, you have to throw me a Super Chat on YouTube.
–We have to pay into your YouTube channel? How about… 500 Yen?
Taichi: 500? Cheapskate. My subscribers all know that if they want a question answered they have to pay for a Super Chat. Common courtesy, come on.
–Your YouTube channel has been pretty profitable for you. 
Taichi: I'm loving the YouTube thing.
–You're streaming a lot; is it difficult to wrestle and do YouTube at the same time?
Taichi: Nah, it doesn't get in the way of my lifestyle at all. Usually about 9, 10 PM I'm drinking and playing videogames anyway. So now I just broadcast it is all. 
–You're mainly streaming game footage, but recently you brought DOUKI in for an interesting cup ramen challenge…
Taichi: Ah, I wasn't expecting it to turn out that way. He came in and brought a little gimmick with him, but I didn't expect it to turn out as long as it did. You can see the archive still (https://www.youtube.com/watch?v=6evdIGBjC5k)
–At any rate, today's interview is actually about the G1…
Taichi: Let's keep it to YouTube. I've got promotion to do.
–Just a little more than. You tried out a kick machine on your channel lately.
Taichi: I'd seen some other YouTubers give it a shot, but I was the first wrestler as far as I know. So I wanted to see what score I could get.
–You really put up an impressive score.
Taichi: The record on the machine was 550 kg of force, but I hit 560. You can catch the archive for that as well. https://www.youtube.com/watch?v=Yz1dAhq1_uk
–Well, can we talk about the G1 now?
Taichi: It was my kicks that earned me the spot I think…
Less block matches means more YouTube streams
–This year's G1 has four blocks of seven wrestlers for a total of 28. What do you think of the tournament structure?
Taichi: Well, less league matches is a good thing for me, I think. I reckon all the entrants are a bit relieved they only have six league matches instead of nine to deal with. I don't think anyone is complaining at that. People might say they wanted to face X or Y, but not that they would want more matches to be able to do that.
–It works out to a league match every third card or so, which is probably good from a conditioning standpoint.
Taichi: I'm grateful for it. I was worried about whether I could stream during the G1.
–Back to YouTube…
Taichi: I figured if I lost, if I was beat up I couldn't stream, but it looks like I'll be able to squeeze a couple in. 
–You're planning your whole G1 around your YouTube channel?
Taichi: Something wrong with that?
–Tetsuya Naito was wondering whether there are too many entrants this year.
 Taichi: Eh, it's easier for me so I'm ok with it. I don't know, maybe they squeezed more guys in there just to fill out the pack? It's hard to say; I don't know many of these foreign guys. The only other take home I had is the block balancing is a bit weird. Everyone's too heavy in A Block, surely?
Ishii's the big deal. get past him and it's smooth sailing
 –What are your impressions of the B Block lineup?
Taichi: I was doing color commentary on NJPW World when the block lineups were announced. I figured in A Block there was a bunch of big guys that I didn't know, so I was definitely glad I wasn't in there. But then the B Block lineups came in, and they announced Ishii first… I was thinking 'just please, God, don't put me in B Block', and then wham, there it is. 
–You have a lot of previous with Ishii.
Taichi: After the last G1 with him I was just done with it. Every time I get put in a singles with him I'm like 'come on!' I remember after that match, Ishii had a match with 'Nobu (Kanemaru), and that just reminded me how much I hate wrestling him. 
–That Kanemaru match was a violent one. 
Taichi: 'Nobu put all he had, all that experience of his career against Ishii and got wiped out. Man, I hate him.
–And your match is right at the start of the tournament for you, July 17 in Hokkaido.
Taichi: They're doing it on purpose right? Trying to crew me over in front of the hometown boy. I'm a superstar in Hokkaido. This is (Chairman) Sugabayashi's doing, right? He's from Hokkaido, too, near me. Probably jealous.
–But since you have to do it, how do you feel about having Ishii first?
Taichi: Well, if I have to wrestle him, make it first or make it last I think.
–You wrestled him last in 2019, in the Budokan.
Taichi: That was last, so I was always thinking through the whole thing 'ah, I've still got Ishii to go'. Then, by the time we faced off, we were both knocked out, so I really thought since there was no point, they could've just gotten rid of the match. I didn't want to get beaten up. 
–But a lot of people held that as one of the matches of the tournament then, and hopes are always high when you lock up. 
Taichi: When I first started wrestling Ishii, he was talking about 'how long are you going to stay the way you are', and trying to get a rise out of me. It worked, so I think in a way I have him to credit for me being the wrestler I am now. I guess.
–That's probably the thought process behind this match.
Taichi: Well, if they felt that the match was a can't miss prospect, then it is what it is I guess. Anyway, this first match is the most important. I feel if I can get past Ishii, it's smooth sailing the rest of the way.
–Good point.
Taichi: Thing is, Milano said having Ishii at the end would be better, because he would be beaten up and wouldn't hit me so hard. He's got a point there, too…I've got to go for his knees I think.
All SANADA needs is luck
–Your second block match is a week later in Ota against SANADA.
Taichi: This match with Sana-yan is the one I'm most excited for. Right in Ota, where the Triple Crown was unified…
–It's a key place for a big '90s AJPW fan like yourself. You picked up a win last year in Ota, correct?
Taichi: If it's going to be Taichi vs SANADA, it has to be Ota, right? The thing with Sana-yan though is all the bad luck he's had. Last year he had a poor record, and then this year he had the belt for all of two minutes before he had to vacate. 
–He's had some misfortune, but in a way, there's always the anticipation that he can break through.
Taichi: He's had all the tools, athletically, ability wise. The only thing he's missing is luck, I think. 
I know he took the tag belts, but I don't see him as a threat
–Your third match is with Chase Owens on August 5. You faced one another last year, but were struggling with injury at the time, and he managed to pick up the win. 
Taichi: I was really at my worst physically when I had Chase last year. He shot me into the guardrails early, and I really almost quit, it was so painful.
–That bad?
Taichi: Hm, well to be honest, I was taped up, but I was really just doing a sumo thing with the tape, it didn't make much of a difference. Thing is, I don't think he really beat me. I was in a terrible state and he managed to come out with the win over someone who had no strength in his body.
–So you want revenge?
Taichi: I don't know if you can call it that. I don't feel anything toward him. I know he won the tag belts, but I don't see him as any kind of threat. 
What's Tama like in Hontai? I have no clue
–Your fourth match on August 9 is with Tama Tonga. What are your thoughts on Tama since he transitioned to Hontai and left BULLET CLUB?
Taichi: Since that happened, I haven't tied up with him once, not even in tags. So I don't know what he'll be like now. We'll find out in our match, I imagine.
–It'll be quite a meaningful G1 for Tama, out of BULLET CLUB for the first time. 
Taichi: Hm. He did win a belt in the meantime, became singles champion… I don't know. I'll wait and see with him.
Like Jay or not, there's not many better
–August 13 in Machida, you face IWGP World Heavyweight Champion, Switchblade Jay White.
Taichi: Being in the same block as the guy with the top belt is definitely enticing.
–You two aren't entirely dissimilar in how you show disdain for opponents and play around, but get serious when the time is right.
Taichi: Hmm, maybe. But the thing with Jay is, he really is good. A young guy like that being shot out of the cannon and becoming champion, I think there are some guys that will side eye him and wonder if he's really as good as he says he is. But when you lock up with the guy, you know that yeah, he definitely is. 
–It's something other wrestlers know especially.
Taichi: I mean it's obvious that he's tough, but when you're in there with him you really experience how good he is. Like him or not, there aren't many better. 
Beating Jay would be great for YouTube
–We don't often hear you talk about the IWGP World Heavyweight Championship. What are your views on the belt?
Taichi: I've never talked about it, but if I produce against Jay I might start. I know that up to know I haven't been world title level, I'd admit that. 
–That's quite a surprise to hear.
Taichi: In the New Japan Cup before I faced Okada, and it really hit me 'man, he's amazing. That's why you get to main event in the Tokyo Dome'.
–But Okada said that he thought you were on the IWGP level, and that he would face you for the title.
Taichi: He did say that. Then he went and lost the belt, and I'm out of the picture again, heh. if he still had it, I might stick my head in. 
–Okada is very selective with comments like that. 
Taichi: I get that. I did think that because he said it, and it's a rare deal, he probably meant what he said. So, yeah, seriously at Osaka Jo Hall, I was all ready to head out there and face him down, and then look what happened. 
–So this match with Jay might be a second chance. 
Taichi: Well a win over the champion would help in all sorts of ways. Would be great for YouTube. 
–Certainly it would be good promotion. 
Taichi: Obviously I'd be happy with beating an Ishii or a Tama, but beating the champion? The stream that night would be huge. I'd rake in the cash on Super Chats. 
SANADA is a better wrestler, but O-Khan is more captivating.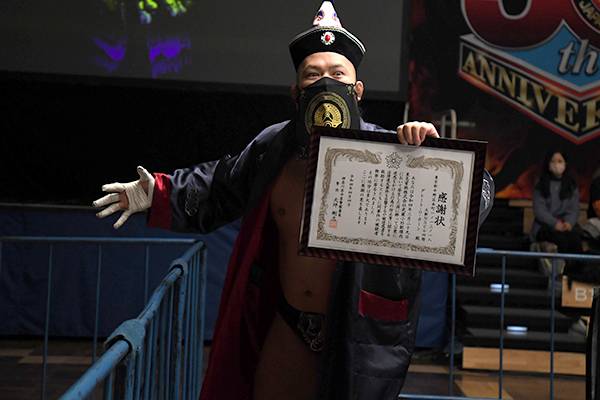 –Your last block match will be on August 14 in Nagano against great-O-Khan. This will be your first singles match with O-Khan, but you boht have some fairly similar views when it comes to outside media. 
Taichi: He's an intriguing one. And he's good at using the media, right? He's been getting attention in his own way, but he thinks like I do that nowadays you can't just do your job from bell to bell and have that be it. 
–Outside promotion, be it on social media or elsewhere is vital.
Taichi: Right. Be it social or on YouTube, you have to use that stuff, and I think he's very good at it. So I feel a bit of an affinity toward him. 
–That's rare, for you.
Taichi: Maybe him helping that little girl was purely by chance, but he was able to make the best of the attention he got from that. He capitalised on that luck.
–Do you think that he's gotten luck that SANADA hasn't?
Taichi: Perhaps so. But when the media come calling, he's able to speak to them well, and get himself across. Maybe SANADA is a better in ring wrestler, I don't know, but O-Khan might be more compelling. 
–So the war of words before this match might be one to watch. 
Taichi: Heheh. It might be a battle of who's feeling froggier.
If it gets me more subs, I guess I'll try and win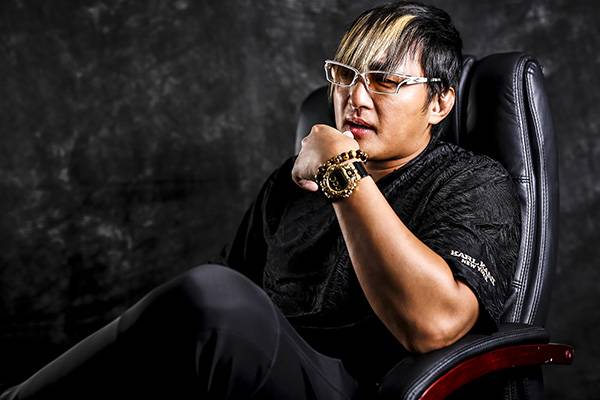 –Win B Block and you'll have to face the winner of A Block. Who would you want that to be?
Taichi: Hm, from A it has to be Okada. There's a couple of guys in there I don't know a thing about, but Lance (Archer) is in there, so i do want him to do well. But I wouldn't want to face him in a spot like that, so Okada.
–How about in the finals from C and D block?
Taichi: C Block, it really could be anyone… apart from Goto and Henare. D Block, if he really thinks KOPW is on a level above, then I want Shingo takagi to put his money where his mouth is and step up. I don't want to give him any praise, but if he makes it through then I don't look so bad I guess. 
–Your tag partner Zack Sabre Jr. is in C Block.
Taichi: I'd definitely like him to make it through. But then you have Naito saying for so long that he'll be making this big resurgence, and then not doing that, that actually makes him more dangerous, y'know? But I think it'll be Zack and Naito at the end and Zack winning. 
–So you think it'll be a ZSJ vs Takagi final?
Taichi: Then the final will be Zack versus… Jay White (laughs)
–Not Taichi??
Taichi: Nah, I'll get, like, four points. Haha!
–Do you think Jay is the absolute favourite?
Taichi: I think you look at B Block and it's Jay and Sana-yan. If the stars really do have it for Sana, then he'll make it, but…
–So, what are your final thoughts?
Taichi: Hmm. Well, I want to win as many as I can. That7ll be good for the YouTube views. I'm not really going to sit here and say 'I'm winning this whole thing', or 'that belt is mine'. But if it gets me more subs, then I'll try and win the whole thing, I guess. 
–It's about YouTube to the very end?
Taichi: Hey, more views, more subs, more money- well, the smiles on their faces is why I would be going for the win. 
–And you'll be streaming through the tournament?
Taichi: If I'm not injured, and I win my match that night, I'll do a live stream afterward. Anything for my viewers!