We're approaching the end to yet another of 2020's several firsts in NJPW; the first ever twin tournament tour of Best of the Super Jr. 27 and World Tag League 2020. As we approach the joint finals in Nippon Budokan on December 11, there's plenty of historical moments to look at from this week in history as well. Let's take a closer look. 
November 29 1985: Big teams, new titles
This year's World Tag League has seen an unprecedented twist to what is normally the last tournament of the calendar year. For the first time in 2020, the tag league is competing with best of the Super Jr., all culminating with a pair of tournament finals in the Nippon Budokan on December 11.
Yet tag tournaments have been around for an incredible four decades in NJPW. The original MSG Tag League saw all the excitment of Madison Square Garden in Japan, with some teams that combined top stars in Japan with those over seas. As the mid 1980s approached, and in the midst of a boom in NJPW's popularity however, goals shifted to bring New Japan to the world rather than the world to New Japan. With that mindset, the International Wrestling Grand Prix was established, and with it, the IWGP Tag Team Championships. 
In an era when the IWGP Championship was an annual league and not a regularly defended title, the IWGP Tag Team Championships would be the first IWGP titles to be regularly defended in NJPW. Their first holders would be determined via the IWGP Tag League, and while Bruiser Brody and Jimmy Snuka, and the home combination of Antonio Inoki and Seiji Sakaguchi were favourites, the eventual winners would be Tatsumi Fujinami and Kengo Kimura. On this day 35 years ago, they took on the Masked Superstar and Dick Murdoch in league action. 
November 30 1979: A controversial title change
Speaking of international combinations, the original MSG Tag League winners were Antonio Inoki and Bob Backlund, who achieved victory in that tournament despite some bad blood and controversy that all emanated from November 30 1979, and a controversial title victory for Inoki. 
Bob Backlund was the defending WWF Champion when he headed to Japan in late November 1979, and being a fighting champion, offered an opportunity to Inoki. Inoki was proudly taking any match that came his way, whether in the professional wrestling form, or under martial arts rules; a logic that opened him up to all sorts of opponents, and made him a target of pretty much everyone. 
Specifically he was a target of long time rival Tiger Jeet Singh. Singh had defeated Inoki in tag team action twice in prior nights, when Inoki was teaming with the likes of a young Riki Choshu and Tatsumi Fujinami, and he believed the opportunities afforded Inoki should be afforded him. The wildman caused a scene as he battled to ringside while Inoki and Backlund's match continued, but Inoki was unfazed, suplexing Backlund to win the WWF Championship. 
With the interruption being the source of much anger for the former chamion, a rematch was granted the next week, in a match ruled a no contest. With controversy reigning on both NJPW and WWF sides of the debate, Inoki's championship win would be overturned and Backlund would return home with his WWF title, but Inoki's pinfall win remained on tape. 
December 2, 2012: Sword and Gunning for Tag Gold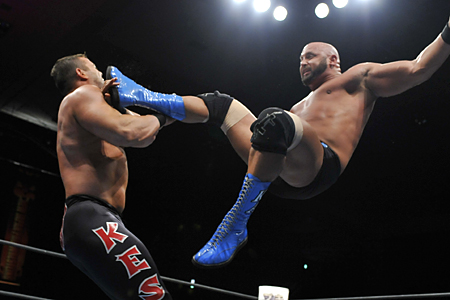 From talk of the original MSG Tag League, we now turn toward the modern World Tag League. After the annual year end transition morphed into the Super Grade, and then the G1 Tag League, WTL became a fixture in 2012, its winners going on to challenge the IWGP Tag Team Champions in the Tokyo Dome. 
Speaking of tag team fixtures, Karl Anderson was just that in New Japan. Teaming with Giant Bernard as Bad Intentions, he went to an amazing 500 day plus, ten defence reign as IWGP Tag Team Champion that remains a record to this day. When Bernard left NJPW in 2012, Anderson switched gears and competed as a singles star, reaching the final of the G1 Climax and the autumn's tournament to determine the first NEVER Openweight Champion. It was in the tag ranks that he found ultimate success though, and while he and Hirooki Goto were a new team, Sword and Guns made the finals against a side only just formed that year, but who were already IWGP Tag Team Champions- Lance Archer and Davey Boy Smith Jr., the Killer Elite Squad. 
December 4 2011: Rough Naito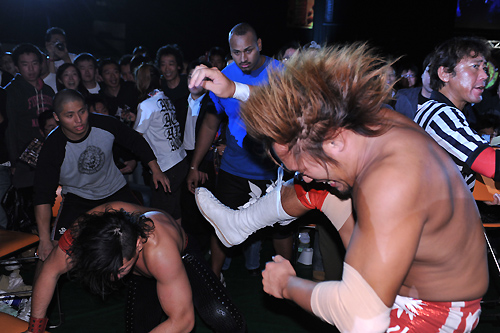 G1 Climax 21 in summer 2011 saw the true arrival of Sinsuke Nakamura. Already a three time IWGP Heavyweight Champion, it wasn't until he won his first G1 Climax after nine years as an active competitor that style and swagger finally came together for the King of Strong Style, and Shinsuke truly came into his own. 
Yet he did so at the expense of Tetsuya Naito. The Stardust genius stood opposite Nakamura in that G1 final and after an intense struggle just barely fell short. This, after his rise in the singles ranks in 2010 opposite Hiroshi Tanahashi made a jealous enemy of tag partner Yujiro Takahashi, and saw him ousted from CHAOS. Afforded a rematch with Nakamura to end the year, Naito was desperate to redress the balance from the summer, and perhaps set a course to his ultimate goal of the IWGP heavyweight Championship before reaching the age of 30.